Young Africans
Kessy misses out on Botswana trip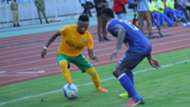 Yanga's in form right-back Hassan Kessy has missed the trip to Botswana to face Township Rollers in the CAF Champions League second leg tie on Saturday because of suspension.
Kessy played a key role in the recent matches both domestically and internationally, he was booked in the first leg of preliminary round when they played against St Louis then booked again in the first leg of play off when they played Rollers on March 6.
The Jangwani outfit flew to Gaborone after their 3-1 Ligi Kuu victory against Stand United on Monday. The squad contains 20 players and 11 officials including technical bench.
Other notable absentees in that trip are Donald Ngoma, Amis Tambwe and Vicente Andrew who remain on the sidelines because of injury.
Speaking before they departed in Dar es Salaam, Media Communication Officer, Dismas Teni said that they believe that they can progress into the group stage because in football everything is possible.
"We are going there with a lot of confidence that we will make it into the group stage, we were beaten at home and we can beat them at their home, in the football everything is possible," said Teni. 
Full squad 
Goalkeepers: Youthe Rostand and Ramadhani Kabwili
Defenders: Juma Abdul, Kelvin Yondani, Juma Said, Nadir Haroub, Hajji Mwinyi, Gadiel Michael.
Midfielders: Pato Ngonyani, Pappy Tshishimbi, Thaban Kamusoko, Rapahel Daud, Pius Buswita.
Forwards: Ibrahim Ajib, Obrey Chirwa, Geoffrey Mwashiuya, Emmanuel Martin, Yusuph Mhilu, Said Mussa, Juma Mahadhi.