Kerala Blasters
ISL 2018-19: Kerala Blasters' David James - ATK's model is aimed at instant success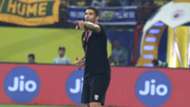 Kerala Blasters head coach David James will be looking to repay the faith shown in him by the club management when the fifth edition of Indian Super League (ISL) starts rolling. 
The former Liverpool goalkeeper replaced Rene Meulensteen in January this year after the latter was sacked. Although James couldn't help the team climb to a play-off spot, there were encouraging signs in their performances since he took over the reins.
He was then rewarded with a three-year contract and a long-term plan was put in place at Blasters. The first step James took was to alter the recruitment policies at the club so as to buy the 'right players at the right price'. Well-known players like Dimitar Berbatov and Wes Brown had failed to make an impact in ISL last season and the Blasters head coach wanted to make sure that history did not repeat. 
Blasters will take on ATK in the season opener at the Salt Lake Stadium in Kolkata on September 29. Their opponents have adopted a completely different recruitment model, signing proven and high-profile players from the past seasons of ISL. 
"All the players of ATK like Kalu Uche, Andre Bikey, John Johnson, Manuel Lanzarote are guys who have performed at a very high level in the ISL in the past. Good luck to ATK," James began, speaking exclusively to Goal. 
"I like the balance that we've got. Our average age is around 22.6. We have a very young squad. Our recruitment was based on longevity. Our two-to-three-year plan means that younger players will then hit their prime. It is not to say that they can't be excellent this season and get even better.
"With a long-term plan, it is nice to think that our players will become desirable for other teams. I get their (ATK) model. Instant success is their aim which is understandable. Our model is that we want success but we are also prepared to build. We are an agricultural community in Kerala so we are used to taking a bit of time over certain things. Our model works for us.
"Certain teams have brought in players who have produced (the goods in the past). It is comforting in one sense because their expectation is that they will reproduce (their feats), in footballing terms. Our recruitment is based more on the potential to become even better.
"The players that we've brought in, they are all improving in different areas already. I don't have a problem with our midfielders, forwards or even defenders getting goals this season. The recruitment has been right and pre-season was good."
James also stressed that there is no bias in favour of north-eastern footballers at Kerala Blasters. 
"With regards to north-east players, I am not a regionalist. There were players whom we identified as desirable and if they are from the north-east, they are (signed) from the north-east."
New signing Anas Edathodika will have to wait for his debut for he has to serve a three-match ban he was slapped with while at Jamshedpur FC last season.
"Anas' acquisition was not based on him being from Kerala but the fact that he is Sandesh's (Jhingan) centre-half partner for the national team. The continuity and understanding is an important factor.
"We knew about the three-match ban. As a head coach, I have 25 players and I am already expecting any one of them not to be available for a number of games for one reason or another.
"Anas is going to have to be ready for when his ban is over and hopefully, he has to work even harder (to get into the team) because the team is doing well," a hopeful David James concluded. 
Follow Nisanth V Easwar on  Twitter - @niktheblue94