A-League
Kenny Lowe's classy note after Perth Glory sacking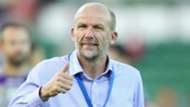 Whatever your thoughts of him as a manager, no-one can argue that as a person Kenny Lowe is a character that will sorely be missed in the A-League.
After failing to guide Perth Glory to the finals this season, the Englishman was sacked from the top job on Friday but will live on at the club as he takes on a role in the academy.
Lowe's tenure lasted four and half years and though on-field success didn't come as frequently as the club would've hoped, Lowe always provided some refreshing personality off it.
Case and point a farewell letter he's penned today and shared on social media.
In his typically colourful vernacular, Lowe signed off in style.
"I can honestly say it's been pleasure working with everyone in the office and everyone on the grass," Lowe wrote.
"There have been a few cup finals, a few finals, the odd journey to the cells, a few heartaches and some laughs along the way.
"But the biggest thing for me take out of this all is i genuinely believe I've made a fair few friends along the journey and for that alone I would not change one thing...apart from getting sacked hahaha."
While it's not clear who will replace Lowe next season, one thing is. They'll have some very quirky shoes to fill. 
Check out Lowe's full note below. 
— Kenny Lowe (@kennylowe10) April 20, 2018