MLS
Kaka says he wants to extend MLS stay, but no progress made on new deal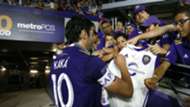 ORLANDO, Fla. — Sporting a new haircut, clean shave and his trademark smile, Kaka could have passed for someone in his 20s as he sat down for a recent interview with Goal about his present and future in America. The reality, though, is the Brazilian legend recently turned 35, and began the latest season of his storied career by suffering an injury just minutes into the opener.
Despite that inauspicious beginning, 2017 is shaping up to be a good year for Kaka and Orlando City. He has returned from his hamstring injury looking as dangerous as ever — as evidenced by his recent wonder-goal in Orlando's draw with Sporting Kansas City — and the Lions look like they have the best team they've had since entering MLS two years ago. Kaka is having fun, and rather than thinking about retirement, he believes he has at least two more years to play.
Barcelona product making impact in MLS
Just where those years will be spent remains to be seen because, as things stand, Kaka will be out of contract at the end of the year. Discussions about a new contract with Orlando have yet to begin, even though the former Ballon D'Or winner says he wants to stay with the club beyond this year. 
"My first option is to stay here. I want to keep playing here in Orlando," Kaka told Goal . "But we haven't talked about that yet. We'll wait for the right time to speak about that. Now I just focus on playing, staying in shape and being happy on the field. Then it will be the moment to speak about that."
Contract talks may have been stalled by the hamstring injury that forced Kaka out just 11 minutes into the season opener. He went on to miss five matches, but Orlando still enjoyed the best start in the team's short history, posting a 5-1-0 mark in its first six matches.
"It's not good when you start the season with an injury, but to see the team winning every game and playing very well, that made it easy," Kaka said. "For me, actually, it's very good because I've always said the most important thing for a team to be a championship team is the group. To see the group playing very good without me — but not just without me, but without a lot other players because of injuries, cards and different things — shows me that we are (heading) in the right direction.
"The team has an identity, independent of the players," Kaka added. "Of course there are a lot of players that can make a difference during the game, but the most important thing is the identity of the team, and the philosophy that we are playing. It shows me during this period that the team is in the right way."
Kaka has enjoyed success since returning to action. He scored three goals in his first four matches back in action, and while he is still working to reach full fitness, he has already shown the qualities he displayed during an impressive preseason.
. @MLS Goal of the Week nomination:  @FBCMortgage Goal of the Game: pic.twitter.com/9sWIMrQIN7

— Orlando City SC (@OrlandoCitySC) May 15, 2017
"It's worth reiterating that he worked incredibly hard in the offseason, and came in incredibly lean and trim and I thought had a fantastic preseason," Orlando coach Jason Kreis told Goal . "The work he put in in the preseason was second to none. He was leading everything we were doing by example.
"And I thought really we were going to see the absolute best of Ricky that we've seen in the league this year, but then to get that injury in the first game kind of put a sour note on things. But again, he's worked really hard to get himself healthy, and has looked like he's building into the things."
As well as Orlando managed without him, the Lions will need Kaka at his best to secure the team's first playoff berth and try to make a push in the postseason.
"He's an incredibly important player for us," Kreis said. "Of course he's an extremely talented player that can make goals, and score goals, and really dictate the tempo of our play, but more so just because he's such a leader for our club, and a person for everybody to look to.
"He's been absolutely incredible to work with as a coach," Kreis continued. "From my point of view, he's the type of player that every coach dreams of because he's super talented but real willing to listen to what the coaches want, and to try and to implement it and get the players around him to do it, and intelligent enough to understand it."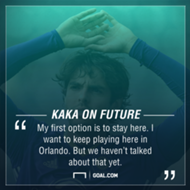 As he works his way through the final year of a contract that has made him the highest-paid player in MLS in each year he's been in the league, Kaka has no regrets about his decision to come to MLS. He acknowledges that he probably would have spent the past few years playing at AC Milan or back in Brazil if he hadn't come to the United States, but he insists his time in America has exceeded all expectations.
Galaxy stars lead MLS Team of the Week
"Yes, I'm very happy here. This is the best part because it's more than I thought," Kaka said. "When I came here I knew that it would be a lot of different things on the field, off the field. In different countries, different cities, but I wanted to live this experience. Live in another country, live in another city, have this experience here in MLS, and it's much more than I expected.
"I'm very, very happy with that and very happy to be part of this moment of the league, and see the stadiums full, everybody enjoying the league. And now our stadium, every game is full. This makes me happy and makes me proud of the choice that I (made)."
If 2017 does wind up being Kaka's final year in MLS, he is working hard to make it a special one. The Lions are in second place in the Eastern Conference at 6-3-2, and almost halfway to their season's point total in 2016, when they missed out on the playoffs by a point. Though he's in his mid-30s, Kaka is still training and playing like someone with no intention of slowing down.
"I think it's amazing, absolutely amazing," Kreis said of Kaka's work ethic. "With a player like that, who's won everything, including World Player of the Year, you have to think, 'Gosh, is he really going to be motivated by playing Kansas City this weekend at home?' But he is, and I think he takes a more global view of it in that he kind of wears this club on his sleeve.
"He takes a real pride in the fact that he was the first player here, and real pride in being part of this community. Because of that, I'm pretty sure he's extremely motivated to help get this team in the playoffs and lead this team to the playoffs."
So what does motivate a player who can count honors ranging from a World Cup to UEFA Champions League on his resume?
"For me, it's winning," Kaka said. "To come here to prepare myself to win tomorrow is the best thing that I can do. Of course I don't know if we're going to win or not, but preparing myself to win is something that is still motivating me.
"If we win tomorrow I'll be so happy that everything we've done this week is very good, and we've had a very good result," he continued. "So winning, I have targets with that. So, it's winning against Kansas (City) tomorrow, make the playoffs, (winning) the league, and a lot of things with that. Help this project, and help the league. It's something that is going very well."
As for what the future holds for Kaka beyond 2017, he remains confident that he will stick around Orlando City beyond this year, even though contract renewal talks have yet to begin.
"We don't have to wait until the end of the year (to sign a new contract), but now the club hasn't said anything yet," Kaka said. "I think everybody's just waiting and happy with this moment, and for sure the moment will arrive to discuss a renewal."
One thing seems certain, though: He isn't ready to retire and put an end to a storied career. 
"My future is on the field. I think it's maybe two years more," Kaka said. "It's something I'm still looking at. And of course I will see every year what is my condition, my body, my motivation, my mind. So there are a lot of things to see, and if it makes me happy to come here every day and train, I will keep playing. This is something that I still love to>