Liverpool
Jurgen, we have a problem! Liverpool are closing in on crisis territory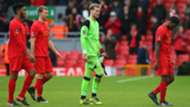 ---
COMMENT
---
Long before kick off on Saturday afternoon, Jurgen Klopp was acutely aware of the shifting mood surrounding Liverpool. "I am not immune to the sense around us in this moment that the sun is not shining as brightly compared with a month ago," he said, vowing that he would not "allow that to become a factor that distracts us or affects the team."
Klopp hits 10-year low with Liverpool
But the skies were as cloudy as ever by lunch time with Wolves executing their game plan better, bullying and bypassing the Reds so easily in the FA Cup fourth-round tie.
This, unfortunately, has been the norm and not the anomaly of recent.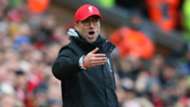 Since Liverpool beat Manchester City at Anfield on New Year's Eve to make them Chelsea's closest competitors in the title race heading into 2017, they have been held to a goalless draw at the ground by Plymouth Argyle, before being beaten by Swansea, Southampton and Wolves in a week, exiting two competitions in the process.
It's the first time three defeats in succession have occurred on their own turf since October 2012 against more fathomable opposition in Arsenal, Manchester United and Udinese.
The slide has been both alarming and swift. 
There has been a solitary win since the turn of the year - an unconvincing one at that in the FA Cup replay at Home Park - with four defeats in eight. They've only scored seven in those fixtures, conceding three more than their tally.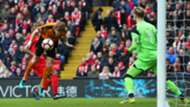 An attack that was once the envy of the division is now devoid of invention or any sort of variation. Sadio Mane's return from the Africa Cup of Nations cannot come quick enough with Liverpool so pedestrian in his absence.
Klopp made nine changes in the 2-1 defeat to Wolves given the hosting of leaders Chelsea in the league on Tuesday. The decision, while understandable, played a part in such a disjointed performance.
Liverpool fans, midway through a chorus of 'Poetry in Motion', were interrupted by the sight of Richard Stearman heading in Helda Costa's free-kick without a flicker of pressure within the first minute. 
Coutinho: I want to beat Barca
The goal should have been ruled out for offside, but the stationary state of the hosts was inexcusable, with Loris Karius indecisive and poorly positioned. 
And there was to be no distraction from that dispiriting start, with Liverpool too passive without the ball and too easily dispossessed.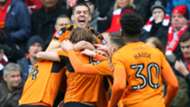 The Merseysiders had zero fear factor about their play, were losing their duels and left Wolves with quite a comfortable task. If anything, it was Klopp's side who looked a division below their opponents at Anfield; their first shot on target only arriving in the 60th minute.
Wolves were, as predicted, organised and direct - strong in the tussles for second balls and a nuisance to Liverpool's rearguard at every possible opportunity. 
They were encouraged by the home side not putting in tackles, not properly protecting their offensive moments and not causing any concern to young Harry Burgoyne.
And it was no shock then that as they had begun the half, so too did they finish it. Liverpool ceded possession and Wolves speedily broke, first through Costa who fed Andreas Weimann. His initial touch took the ball around Karius with his second nestling into an empty net - a third goal in his last four appearances at Anfield. 
Sturridge must speed past critics
The first 45 could not end quickly enough, and for Liverpool supporters, neither can the month of January.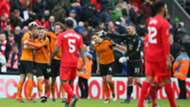 The Reds pushed on after the break, but only came alive at the death. Divock Origi's 86th-minute goal provided late resistance but it was far from enough. 
Klopp has now suffered three consecutive home defeats as a manager for the first time since April 2007 when he was still in charge at Mainz.
"Somebody asked me a second ago if this is the lowest point of my Liverpool time until now – I don't know," he said.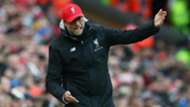 "But if it is, it's the perfect point to turn because it's not possible to go lower. That's all we have to think about now. It's not that hard but it feels in this moment – and is absolutely right – bad. We have to use it. In this moment, it's not the right time to talk too much about being positive and optimistic.
"No doubt from tomorrow on we will be, but in this moment we feel really bad."
The fixture against Chelsea - Liverpool's 15th since the start of December - provides the perfect platform for Liverpool to right their wrongs, but conversely, it could send a campaign that promised so much into further spiral.