Ligi kuu Bara
John Bocco has now scored ten goals against Juma Kaseja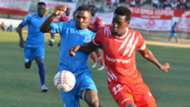 Fresh from humiliating Singida United in a 4-0 thriller last week in the league, Simba dispatched Kagera Sugar confidently in another breathless encounter at the Kaitaba.
Kaseja had a busy day between the posts overall, coming to Kagera's rescue on three occasions. Simba new captain John Bocco made record as he scored his 10th goal against Juma Kaseja.
The attacker scored the second goal when Simba defeated Kagera Sugar 2-0 this evening.
Bocco could not hide his happiness after helping Simba to grab all three points and he insisted that he has a lot of respect to Kaseja.
"Kaseja is a wonderful player, who can take care of himself, he has been at his best for long time, something in which he has a reason to proud of and deserve to be applauded.
"I managed to score against him because of my hard working and I want to get even better. I thank my team mate for their support and good game that gave us three points," said Bocco.
Bocco scored more goals against Kaseja when the shoot stopper was playing for Simba, also when he was at Yanga while the striker was playing for Azam.
Simba are back to the top of the league following the win at Kaitaba Stadium in Bukoba.