Super League
JDT inches closer to a magnificent five, Kedah hold off KL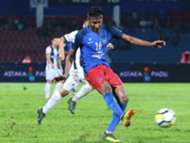 It's another giant step for JDT after they handed Terengganu FC a 2-0 defeat at Tan Sri Dato Haji Hassan Yunos Stadium to complete their 16th match of the 2018 Super League season.
This latest victory is JDT's 13th win in the league and the title is now more about when rather than who, as they stand 13 points ahead of Perak with only six matches left to play.
Defensive stalwart Marcos Antonio put the home side ahead with an early headed effort in the 8th minute before Gonzalo Cabrera cleverly finished off a Syamer Kutty Abba pass ten minutes before half time.
Youngster Syamer once again got the nod for a berth in central midfield because neither Safiq Rahim nor Gary Steven Robbat has fully recovered from their respective injuries and Ignacio Insa's return is being carefully managed.
Over at Darul Aman Stadium, Kedah was able to fend off a comeback from Kuala Lumpur to emerge as 3-2 winners.
The Red Eagles raced to a 3-0 lead after only 32 minutes of the first half had been played with Andik Vermansah, Akhyar Rashid and Paulo Rangel scoring a goal each.
KL managed to pull one back just before half time through Guilherme de Paula but one more goal was all they could manage in the second half as Syafwan Syahlan's 88th minute effort turned out to be just a consolation.
The result meant that both teams stayed in their respective positions of 4th and 8th respectively.