NPFL
'It's very wrong' - Fashanu berates Nigeria Professional Football League abrupt ending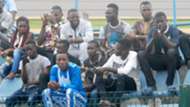 Former England international John Fashanu says the League Management Company and club owners were 'wrong' to abruptly end the 2017/18 Nigeria Professional Football League season.
Last weekend, the LMC announced the premature ending of the Nigerian topflight despite 14 games left to play after an emergency meeting with the overwhelming endorsement of the clubs.
The decision was largely due to the challenge of honouring the CAF's October 15 deadline for submission of teams for its club competitions and May 2019 for the conclusion of the new season.
But the 55-year-old berated the move of the organisers, stressing that the decision to end the country's elite division abruptly was undermining the value.
"It's very wrong that they end the league the way they did. I don't think anybody really knows what is going on," Fashanu told media.
"It's very wrong, it's disappointing, it's shocking and weird. There should have been alternatives which were not explored. The league is not only about the club chairmen; the players, the fans are equally important.
"Now, it seems we are only bothered about having teams play on the continent but nobody cares about how they performed. From records, performance has been appalling in recent years; if they are concerned about performance, they should have consulted far and wide. For me the decision is irrational."