African All Stars
'It was just an amazing feeling,' Iwobi reminisces on first pre-season tour with Arsenal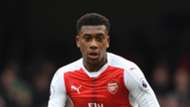 Alex Iwobi described his first experience in Arsenal's pre-season training tour as an amazing feeling and an avenue for young players to relate and have a taste of the first team.
The Super Eagles forward who made his pre-season debut for the Arsene Wenger's men against Singapore Select XI in 2015, narrated how overwhelmed he was when the fans filled up the National Stadium in Singapore.
Iwobi enjoyed a decent season with the Emirates Stadium outfit last season with three goals in 18 league games, and will definitely get on the Gunners' train to Sydney as they prepare for their first workout of the summer in few days.
 "They're 100 per cent behind us," Iwobi told ArsenalPlayer.
"I didn't know the fanbase of Arsenal Football Club was that big until we got there. It's just crazy to know that we have fans all around the world.
"There were fans at the airport, fans at the hotel, just excited to see us. I was like, 'Oh wow, I'm being recognised in Singapore' and I didn't even get that in London! It was just an amazing feeling.
"Especially for young players, it gives us a chance to go abroad, see what things are like with the first team.
 "It also gives us a taste of the first team. As a young player, it's definitely something you need to experience and take on board for the future."