Ikhsan Fandi
It remains to be seen if Ikhsan's persistence will be enough for the Lions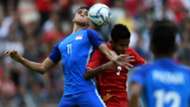 Singapore's win over Cambodia extended the Lions' healthy growth under coach Fandi Ahmad. For Fandi it was a double joy as he saw his son, Ikhsan Fandi, score the winner through sheer persistence.
Ikhsan will be expected to lead the line for the Lions in the upcoming AFF Suzuki Cup. Fandi has preferred to use the Young Lions forward compared to the more experienced Khairul Amri or Shahril Ishak, preferring to use the experienced duo as super subs.
Whether that is the right call remains to be seen as there have been groans regarding Ikhsan's consistency.  At just only 19, Ikhsan doesn't have a wealth of experience and has at times struggled against experienced defenders compared to Shahril or Amri who are excellent at holding up the ball and making clever runs.
What's worst for Ikhsan is that he has been starved of service at times in this Singapore side which makes it even harder for him to prove his capabilities. However if there is one thing the 19-year-old never lacks is persistence. More often not he never fails to hassle the opposition and works his socks off for the team. That was evident in how he netted the winner against the Angkor Warriors.
There was no danger for Cambodia as its centre-back attempted to guide a long punt back to their goalkeeper. But the lurking Ikhsan Fandi harried, hassled and profited to score the winning goal for the Lions.
Whether persistence is enough for the Lions against the likes of Indonesia, Thailand and Phillipines remains to be seen when the AFF Championships get underway in November.