African All Stars
'It can happen to anyone,' Ambrose regrets embarrassing own goal against Barcelona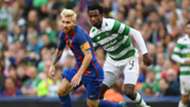 Nigeria international Efe Ambrose regrets the day he turned the ball into his own net in a pre-season game between Celtic and Barcelona.
The 28-year-old's own goal cost Brendan Rogers' men a 3-1 defeat to the Spanish giants in the Aviva Stadium, Dublin. He consequently was punished as he didn't play any game for the Hoops.
The Nigerian who joined Hibernian on loan due to lack of games in Celtic, admitted that the fans were not there to support him after his horror mistake on that fateful day in Dublin making it a sad day for him.
"That's football. I am a defender. I tried to stop it but I slipped and the ball bounced off my shin. It can happen to anyone in football," Ambrose told Edinburgh News.
"You can never predict what is going to happen in football. After that day I was sad about the reaction, but I was just trying to do my job – to defend. I wasn't trying to kick the ball in the net. I was just trying to defend, that's my job.
"Sometimes you get it right, sometimes you get it wrong. But when that happens, that's when you need the people's support. I didn't get it that day.
"But that's life. When the team is doing well no-one picks on anyone. When the team are doing badly they start picking. Since Celtic have been winning, no-one has been playing badly, everyone has been good.
"But when they were not doing well that's when the fans started to pick on players. I never regretted anything. I always tried my best, I always stood up and kept fighting.
"Football is like this, there has been criticism but I've never allowed it to pull me down in any way. I just come back stronger."