Narayan Das
Narayan Das: I will give my hundred percent for Delhi Dynamos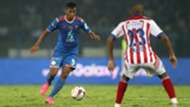 Narayan Das, currently one of the top left-backs in the country, recently left Indian Super League (ISL) side FC Goa to join Delhi Dynamos. The 24-year-old Bengali defender had a decent season last year with the Goans where he was a regular starter.
He has also been a regular in the Indian national team setup for the last two-three years. Recently in the Intercontinental Cup, Coach Stephen Constantine chose to hand youngster Subhasish Bose.a chance and Narayan missed out on the starting XI. 
In an interview with Goal, Das spoke about his experience with FC Goa and playing under Sergio Lobera, who was one of the best coaches in ISL last season.
He said, "Last season was very good for me at FC Goa. We had a very good side. We had unity. We had quality foreigners like Manuel Lanzarote and Ferran Corominas who used to guide us a lot. I learnt a lot from all my teammates.
"Sergio Lobera was a very intelligent coach and technically very sound. He taught us a lot of things."
Das also explained why he chose to move to Delhi Dynamos. "They are a great team and I am glad to join them this season. It is every player's target to win matches and ultimately win trophies with the team. I will give my hundred per cent for Delhi this season. I still don't know who will be our coach this season. So my first target will be to cement my place in the starting XI."
It is going to be a reunion for Narayan with his longtime friend Pritam Kotal at Dynamos this season. Kotal was the captain of the franchise last year in ISL.
The left-back revealed that he shares a very close bond with Kotal which tracks back to their childhood. He also mentioned that they still practice together during off-season at Uttarpara, Kolkata ,where Pritam resides.
"Pritam and I are very close friends. We grew up together and started our football journey at Pailan Arrows. Even during the off-season, we practice together in Uttarpara.  So it's great to play together for the same club again," said an elated Narayan.
On competition with Subhasish Bose in the national team, Das suggested that he relishes the healthy competition and also mentioned that it will only help him grow further as a player.
He said, "Competition is always good. It brings out the best in you. Subhasish (Bose) played well this season and got the opportunity. Maybe I had some flaws in my performance this time. I will be working on them and try to win back my place in the Indian team."
Earlier in an interview with Goal, Subhasish Bose had mentioned that the AFC Asian Cup is like World Cup to them. Narayan seconded his competitor and further spoke on his personal preparation for the grand tournament.
Das said, "Yes, of course, I agree with Subhasish that the AFC Asian Cup is like the World Cup for us. I will try my best to remain fit and injury free and improve my game. Coach Stephen Constantine knows his job and he will prepare us properly for the tournament."
Mohun Bagan President Tutu Bose had annouced earlier that East Bengal are set to join the ISL and also siad that Bagan are also looking to do the same. 
On the Kolkata giants' decision to join ISL, the defender opined, "If East Bengal and Mohun Bagan join the ISL it will be great news. They are one of the biggest clubs in India. If they join, more players will get chance to play at the top level. They have huge fan bases so it will be great if the Kolkata clubs join."
Finally, on asked if he would consider returning to his home city in future, Narayan suggested, "If I get a suitable offer I would like to come back to Kolkata in future. Every player dreams of playing for such big clubs. Let us see what happens."