Kerala Blasters
ISL 2018-19: Kerala Blasters' Dheeraj Singh idolises Bengaluru FC's Gurpreet Sandhu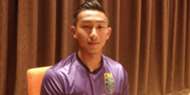 The starlet who shone at the U-17 World Cup and now the first choice goalkeeper of Kerala Blasters under David James, Dheeraj Singh's football journey has been eventful. 
The Manipur-born goalie, who only recently turned 18, is elated at the opportunity to train under the tutelage of former Liverpool and England goalkeeper David James. He then went to Scottish club Motherwell FC for a training stint. 
"I trained with Kerala Blasters until my visa for Scotland came. I was lucky that David James was here. He was happy with my performance and then I left for Motherwell for a training stint," Dheeraj told Goal .  
"I thought if David James is going to be the head coach at Blasters, then it is a rare opportunity and it would be the right decision for me to join Kerala Blasters."
At Blasters, he will face stiff competition from former FC Goa goalie Naveen Kumar for a spot in between the sticks. Naveen was a first-team regular under Sergio Lobera in the second half of last season and won't settle for a place on the bench at his new club. 
"It is good to have a good goalkeeper to compete against. He has a great experience from the last few seasons. It is good for me, we have been learning together. Both of us want to play. The competition among ourselves won't give us a chance to relax. We will be on our toes to get a chance because everyone wants to play," Dheeraj reckoned. 
Dheeraj's role at Indian Arrows was grabbed with both hands by Prabsukhan Gill who has since performed admirably for both the club and country, "Indian Arrows and the national team have good goalkeepers and there is good competition among ourselves. I would like to thank them for giving a tough competition.
"After the World Cup, I thought it would be the right time for me to go and explore. I am just a young goalkeeper and even though I could not make it, it was a great experience for me.  I have a long way to go."
The youngster has a favourite goalkeeper and it is Bengaluru FC and Indian national team custodian Gurpreet Singh Sandhu. 
"We have lots of good goalkeepers in India. We have Gurpreet, Amrinder and other many good goalkeepers. I like Gurpreet, the way he commands, his confidence on and off the pitch, his positioning and handling of the ball, I really like him," Dheeraj said. 
Kerala Blasters are chasing their first title and this season, they have an 18-year-old goalkeeper as the last line of defence. Dheeraj Singh is not bothered by the pressure for he knows he will quickly learn from his mistakes. 
"Playing against Melbourne City in Kochi was a great experience for me. It was in front of a huge crowd, the atmosphere inside the stadium was great although the result was not in our favour.
"Even though we conceded six goals, we learned from our mistakes. This is how we learn and grow as players. We have prepared really well and are looking forward to the season."
Follow Nisanth V Easwar on  Twitter - @niktheblue94