Indian Super League
ISL 2018-19: Steve Coppell – Komal Thatal is very much in my plans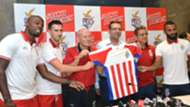 ATK take on rivals Kerala Blasters in the season opener of Indian Super League (ISL) 2018/19 on Sunday in Kolkata.
On facing his former side Kerala Blasters in the first match, Steve Coppell said, "Just before the start of the season everybody thinks that you are ready but until you play you don't know if you are ready. We are looking forward to the game. It is good that it is against Kerala. They have a great atmosphere. So I am hoping we will enjoy the game and start judging ourselves against other teams."
Star Kalu Uche is yet to arrive in Kolkata but Coppell suggested that the management is expecting the Nigerian to arrive any moment.
He said, "We are expecting Kalu (Uche) any moment. We want to be as strong as we can. It's our responsibility as the home team to take the game to the opposition. We want to try and accept the responsibility and try and attack as much as we can."
Former I-League winning coach Sanjoy Sen is working as an assistant to Coppell this season. Sen was instrumental in recruiting the majority of the star-studded ATK squad.
Acknowledging Sen's contribution, Coppell said, "Sanjay (Sen) had an important role in the construction of this squad. I wasn't involved at all. He used the wealth of his experience to sign the best players in the squad. Speaking to him during the pre-season I got to know the reasons for his selection of the players. I am so heavily dependent on him in the short term,  whenever we play the game I take suggestions from him, even though I know most of the Indian players. He experience and expertise is valuable to me."
The experience English coach whole-heartedly praised youngster Komal Thatal. He tagged him as a natural talent and also confirmed that he is a part of his plans this season.
"Komal is a player. When you look at someone the way he manoeuvres, run with the ball, some look manufactured and some look more natural. He is a player. He just turned 18 years of age. As I saw him in the pre-season games and I wouldn't be surprised if he figures in most of the games this season. He is very much in my plans."
On the injury concerns at ATK, coach Coppell said, "We have Prabir (Das) who has a long-standing injury. Arnab (Mondal) has a knee injury, it's a ligament strain, and Andre Bikey has a thigh muscle strain but he is very close to being fit."