Indian Super League
ISL 2018-19: Cesar Ferrando - You can't concede these type of goals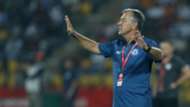 It's now three consecutive draws for Jamshedpur FC and head coach Cesar Ferrando is not a happy man. The 59-year-old was disappointed with some of the mistakes committed by the team, one of which led to Bartholomew Ogbeche's opener.
"I'm happy with the squad but I'm not happy with today's performance. We made some big mistakes. You can't concede these type of goals. They can take a shot when they want but we can't concede a goal so easily. I'm not happy with this. We are professionals and we shouldn't be making such mistakes."
The Spaniard admitted that NorthEast United's style of play caused problems to Jamshedpur's build-up and the team will have to work on maintaining the tempo.
"I think they (NorthEast United FC) tend to play on the counter. We tried to play faster but kept losing the ball and so we had to slow the game. NorthEast were faster and that made it difficult for us. We had to play it out wide. We have to improve this aspect of our game."
When asked about the rotation policy, Cesar maintained that he is really happy with the squad and that he will need to tweak his lineup a bit to tackle the tight schedule ahead. The players missing from today's clash will get a chance in the next set of games.
"I have a big squad and they are all motivated. We have four games at home now. We face Kerala, Goa and Delhi next. Some players will need rest if we have to keep the (high) level. We will try our best. Raju, Jerry, Cidoncha have been good so far and I can assure that they will be playing the next games. They need to be motivated. I'm happy with the squad," Ferrando concluded.