Indian Super League
ISL 2018-19: Jorge Costa - Mumbai City have amazing team spirit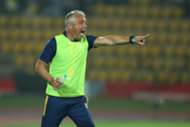 Mumbai City head coach Jorge Costa is happy with his team's recent performances and is expects his players to fight for three points when they take on ATK in the Indian Super League (ISL) on Saturday. 
The Islanders have won their last three matches and kept clean sheets in all of them. They are third on the table with 13 points after seven matches. 
"I am happy with the team's recent performances. We won the last three games, so I am happy," said Costa ahead of the game against ATK. 
"The way that we played and the team spirit, we are fighting a lot. Nobody gave anything to us. I am happy with the players, the spirit that they have in the group is amazing."
Analysing his opponents from Kolkata, Costa said, "ATK are a very very good team. They have very good players and a very good coach with a lot of experience. We will not expect an easy game tomorrow (Saturday).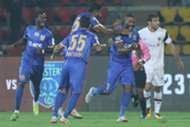 "It is true that their position in the league is not what they expected at the beginning but as usual, I will take care of the things that I can control and the things that I can control is my players. I am sure that we are ready to fight for the three points and have a good game and especially, finishing the game."
Mumbai City had just one win from their first four games but their fortunes have changed after a 0-5 hammering at the hands of FC Goa. 
"We didn't change much. If you remember after the Goa game, I said that we made a wonderful first half. We had a lot of chances to score. I was not happy at the end because we lost.
"If we don't count the Goa game, this is our team playing well, organized and fighting in all the games for three points. Sometimes, you get lucky and get three points but other times, it is not possible. Our team is all that you can see, forgetting the Goa game."