Indian Super League
ISL 2018-19: David James - The rivalry between ATK and KBFC is on different level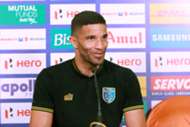 Kerala Blasters and ATK have enjoyed a healthy rivalry over the years in the Indian Super League (ISL). They are set to meet in the opening match of the fifth season of ISL on Saturday in Kolkata.
Ahead of the crucial match, Blasters head coach David James suggested that he loves to face rivals ATK. He said, "I am not sure my record is that bad with ATK. The rivalry between ATK and KBFC is on different levels which I cherish."
On building the Kerala squad this season, James opined, "I was very much involved. It was hours and hours of videos. They have poured in players with ISL experience, especially players who have done well in ISL last season. We have roped in players with a longer strategy looking at the future of Kerala Blasters.
"We look forward to winning the ISL not only this season but in future seasons as well. We have the youngest squad in ISL. It's not that I am an ageist. A lot of young talent has come through the ranks. Not everyone will feature in this season but again after the January transfer window, things can change. It is an interesting strategy that we have worked on."
The coach also suggested it is important for his team to get a good start in the league. "Winning every single game is important. We want to set the record straight with ATK. At the same time, we have to appreciate that it is a long season. If the game against ATK is the final that would be the game that we would want or rather need to win. But yes we again want to win tomorrow and start the season on a good note," said David James.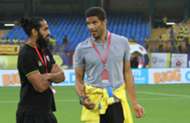 India's U-17 World Cup hero goalkeeper Dheeraj Singh has joined Kerala Blasters this season and David James is excited about his prospects.
On Dheeraj, James opined, "The likes of Dheeraj must look up to Sandesh. He is of a tender age. My expectation from him as an individual is the same as anybody else in the squad. There is no guarantee that he will ever start. But having said we selected him because he is a talented young player. He played well in the U-17 World Cup. He trained well in Scotland. We got positive feedback from the club. In training, he has proved to be a very capable goalkeeper. If he starts then he is the most capable. And that goes for any player."
James also explained his simple plan to counter ATK in the first match. He said, "Strategy wise I always think (we want) to score one more goal than the opposition. That's the plan."
On club captain Sandesh Jhingan, the coach opined, "Sandesh is our club captain and he retains that captaincy. He is one player to look up to. I expect more players to follow him."
Sandesh spoke about the importance of the league and how it helped him improve as a player. Jhingan said, "Every season of ISL is very important. When ISL started I was a pretty unknown figure back then. But all these years in ISL has helped me a lot to improve as a player. You can see how the level of Indian players has gone up after the introduction of ISL.
"Defending against (the likes of)Tim Cahill will certainly improve my game.  So if we have a plan and work hard the future is good for football."