Indian Super League
ISL 2017/18: John Gregory- Albert Roca was wonderful with the words we shared at the final whistle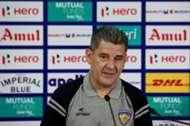 Chennaiyin FC romped to their second title in three years when they beat Bengauru FC 3-2 at the Sree Kanteerava, in Bengaluru on Sunday. Chennaiyin head coach John Gregory was in seventh heaven when he met reporters after coming back to Chennai, a day after winning his first silverware as a coach.
"It's quite incredible. It has not sunk in yet. If I sit down and watch the recording of the game, probably it will all make sense. When you see the reaction and the happiness the victory has brought to our fans, the game is like that. Last season was not good but they have stuck with us. They were waiting for us when we got back at the airport. It was an amazing experience for us. I was not here in 2015. So, they've experienced it once already. This is my first time and it is more than what I ever anticipated," said an ecstatic Gregory.
The former Aston Villa manager heaped praise on his support staff as they have helped him settle down in India as he braved the differences in culture and work ethics.
"With the help of the owners, Amoy (Ghoshal), staff and a wonderful medical teams, it has culminated in an amazing journey. I've had a fantastic opportunity to coach and manage Chennaiyin FC. I honestly haven't worked as hard as this ever because of the games, schedule and dealing with a different culture. I've never been to India before and trying to acclimatise ourselves to the way people live, the way people drive, the way people treat you with respect. From a professional point of view, there's a lot of red tape that we have to adhere to here.
"In Europe, you can and do warm-ups any time you want to. It is not so here. They give you a time much before. For me, it was a bit unusual. Obviously, some of that is frustrating but you have to get used to it. The travelling is also different and a bit long. We were away from the hotel for 10 days... so many nuances I had to get used to. I had good people in the club though and they helped me. Without them, it would have been huge trouble. We have an amazing family atmosphere. We look after each other," said Gregory while explaining the difficulties that he faced initially and how he overcame them.
Rival gaffers are not really fond of each other but the British coach seems to have had a difference experience in India. He spoke highly of Albert Roca, the head coach of Bengaluru FC and other coaches who congratulated him after the win.
"I'll enjoy it (the win) and I have received a huge amount of messages from the other coaches. Albert Roca was wonderful with the words we shared at the final whistle. He is a real gentleman. That is really refreshing. It has been a remarkable weekend. We've got a party to come again," signed off Gregory.