Indian Super League
ISL 2017: Joao Pires de Deus refuses to blame Rehenesh sending-off for defeat to Kerala Blasters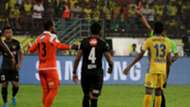 NorthEast United FC coach Joao Pires de Deus saw his side go down to ten men in their 1-0 loss to Kerala Blasters as goalkeeper TP Rehenesh was shown a straight red in the first-half.
The custodian came charging out of his box to bring down Dutch striker Mark Sifneos to earn his marching orders and Deus was unwilling to speak about the decision at the post-match press conference.
"If I start speaking about the red card, I will start speaking about the situation in the Kerala box. I don't want to speak about the red card," the Portuguese said.
The coach instead chose to highlight his side's wastefulness in front of goal once again as the reason for their loss.
"NorthEast had the same problems from the last game. How many shots did we have today? We are frustrated because we had so many chances.
"If we score the chances that we had, we can win the game, even with 10 (men)," he stated.
The NorthEast boss was full of praise for his players' display on the night and remarked that the loss did not reflect how the game had truly gone.
"We were good. Today we were good. I think our boys deserve that.  Everyone speaks the truth about this game. We lost by 1-0 and we don't deserve that," he said.
Deus emphasized the need for his side to bounce back in the next game to improve their standing in the Indian Super League (ISL).
"Next game is very important. We must get points. We don't want to finish in this position on this table. When you win, it is not that everything is well. When you lose, it is not that everything is wrong," he explained.
He also praised his striker Danilo Lopez Cezario for his work ethic and said that things will start to click for the Brazilian soon.
"This boy works a lot. I believe that it will change for him. The way that he works and what he produces will change and when it changes, everyone is going to be happy because we will get different results."