Indian Super League
ISL 2017-18: ' The shrewd one' - Steve Coppell & Jamshedpur FC ghosting towards the playoffs
Ashwin Muralidharan (@AshwinMNair10)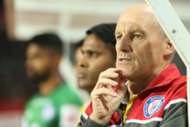 As the ongoing season of the Indian Super League (ISL) reaches its business end, where every result will have ramifications on the final standings, the stage is already set for a dogfight to determine which teams will qualify for the play-offs.
Bengaluru FC have already qualified and FC Pune City are also well-placed to follow them. However, Chennaiyin FC, FC Goa, Kerala Blasters and Jamshedpur FC are fighting for the two remaining spots. 
That Jamshedpur FC are currently placed third on the table and look a good bet to reach the play-offs is a testament to their coach Steve Coppell who is no stranger to the league or the country. 
The soft-spoken Englishman has been masterminding another 'shrewd' season for his team quietly, while the headlines were grabbed by the likes of Albert Roca, Ranko Popovic and Sergio Lobera. The fact that Jamshedpur FC are in such a position despite scoring only 15 goals in 15 games is in itself surprising and credit must go to Coppell who prioritised a tight ship at the back right from day one, despite facing stiff criticism for his team's stifling style of play.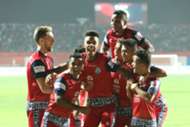 Coppell's recruitment has also mirrored his ideologies, of which he has made no tall claims. Coppell has regularly maintained that he has no problem with being labelled defensive.
He has strong central defenders in Anas Edathodika, Andre Bikey and Tiri. They are well protected by the likes of Mehtab Hossain, Memo and Wellington Priori, helping the Men of Steel live up to their moniker. 
He had pacy wingers to aid his team on the counter-attacks as well, with the inclusion of Sameehg Doutie and Kervens Belfort. However, both of them have failed to sparkle this season which scuppered Coppell's plans. But the former Manchester United winger has adapted and coaxed important goals for his team from various sources - Trindade Goncalves and Izu Azuka stepping up in the second half of the season. 
After a lacklustre start to the season, where it took them four games to open their goalscoring account, many had written off Jamshedpur FC and Steve Coppell. In fact, at the half-way stage in the league, Jamshedpur FC had only 10 points from nine games. 
However, in true 'Coppell' style, the team raised their game by several notches and garnered five wins from their next six games and are currently sitting well in the third spot with three games left. 
If one casts their mind back to the 2016 season of the ISL, one will find that Coppell has been doing exactly what he did with Kerala Blasters then. Coppell's Blasters, a stingy outfit, conceded just 13 goals in 14 games in the league stage and scored just 15. But they ended up being placed second on the table.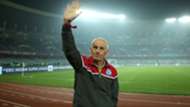 Clearly, this is a coach who knows what he is doing. Which also makes one wonder why Kerala Blasters opted not to retain him for the ongoing season. The 62-year-old favours results more than attractiveness and there is absolutely nothing wrong in that. 
In fact, his demeanour during games is interesting. Coppell is not one to bark out instructions and shout at his players from the touchline. All that is left to his trusted lieutenant Wally Downes while Coppell takes a backseat in the dugout. He can been seen analysing the games, trying to find out chinks in his team's armour and that is one of the reasons why his teams improve as season progresses. 
Even last year, Coppell had a slow start with Kerala Blasters before he went on a scintillating run of results in the second half of the season which also included a seven-match unbeaten run at home. Now, he is doing the same with Jamshedpur FC. 
There have also been several other similarities. Last season there was no winter transfer window but Coppell had the luxury of augmenting his squad with Rino Anto and CK Vineeth, who had returned after Bengaluru FC's AFC Cup commitments. Anto's signing didn't help but Vineeth clicked as he scored five to help Blasters reach the final. 
This season, Coppell utilised the winter transfer window to bring in Wellington Priori, a defensive midfielder who has prior ISL experience. Priori has turned out to be an inspired piece of business. He has allowed Memo to focus on his defensive duties and has given the team more balance. In fact, Priori has been affecting Jamshedpur's game up front as well, scoring an acrobatic winner against NorthEast United last Saturday. 
Coppell might not be the most admired coach in the league or the most appreciated one. But he just might be the shrewdest of the lot, given the way Jamshedpur FC's season is panning out. 
Yes, they have three tough games coming up against Bengaluru FC, FC Goa and Chennaiyin FC. But very few would be (or should be) betting against the former Manchester City manager leading his team to the play-offs.