Indian Super League
ISL 2017-18: John Gregory - FC Goa were the best footballing team in the League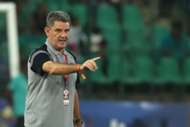 Chennaiyin FC pulled off an incredible win over Bengaluru FC in the final of the Indian Super League (ISL) season four to clinch the coveted trophy for the second time in four years. 
It was an incredible season for the team who, under the tutelage of former Aston Villa manager John Gregory, performed consistently throughout the season. They finished second in the points table after the league stage, eight points behind leaders Bengaluru FC.
In the semi-final, they defeated FC Goa 4-1 on aggregate to qualify for the final and lastly edged past Bengaluru 3-2 to clinch the title.
After guiding the side to triumph in his very first season, coach John Gregory was asked about the turning point of the season. He said, "It was at the half-time at the FC Goa game, Vita was arranging my air ticket to go back (laughs). But we came back and then we beat NorthEast 3-0 and suddenly things started to pick up. Once we got into the top four, that's a playoff position and We started to believe that the season could be a good one. 
"We went to Pune in the third match and we shackled Marcelinho and Alfaro. We kept a clean sheet and it basically showed me I had a solid defence. Mailson, Calderon and a young Jerry seemed to be a solid defence Suddenly, you think you are not bad.
Things just slowly started to progress and we managed to stay in the top four. But the pressure came on and staying in the top-four was the hardest part. Then everyone guns for you. We had a hiccup against NorthEast with a really poor performance."
The British continued, "We kept going and the night that Delhi beat Mumbai, that was it. Somebody was smiling on us. I didn't watch that game. It guaranteed us a playoff place which was our first goal. Having to play a final in Bengaluru on their home patch was pressure. It has been there all season.

"We've had to maintain our position in the league. FC Goa were the best footballing team in the league. To beat them 3-0 was a huge match for us. That's how football is. You don't get carried away. I got a little bit excited when Jeje scored a winner and the third goal against Goa. It's a long hard season and a lot of planning and effort has gone into it."
Under Gregory, several young Indian names flourished this season. Midfielder Anirudh Thapa was a real revelation in Chennaiyin colours and became a regular squad member. He even started in quite a few games and scored a couple of goals including the all-important away goal in the first leg semifinal against Goa.
Speaking about the Indian talents in his squad this season, the coach said, "I try to use Indian players to their strengths and not their weakness. We have one or two Indian players who do not pass the ball as well as the foreign players. But their energy and enthusiasm is an asset. They might give away the ball well, but you can use it as an asset.

"Sometimes, Indian players miss a pass, it is accepted. But we've tried to improve that attitude and we've used video analysis with our players and show them what they have been doing wrong and right. I have to say that the standards since we've come in have improved in all our Indian players over the season to varying levels.
"Niall Clark has improved them all in the way they look after their bodies on a daily basis. We check their fluids, sleep pattern, nutrition, preparation as well. You don't leave all their energy on the training field.A lot of sports science is new to the domestic players. We are integrating them into a system where they are going to benefit. We love working with them and they are going to play a big part in the club's future."
Central defender Mailson Alves scored two crucial goals in the final from corners. On executing the set pieces with perfection on the pitch, the gaffer suggested, "The delivery is the most important part. If you don't put a ball into a specific part, you won't score a goal. We always try and make sure that the guy who took the free-kick puts it in a dangerous position.
"Gregory Nelson did it twice last night from those corners. And Mailson (Alves) came with two great headers. Players should have a good habit of delivering into a good area. But we don't work that much on setpieces to be fair. We do run through them from time to time."
The coach specifically praised midfielder Dhanapal Ganesh who had a terrific outing with the franchise this season. "Ganesh has had a season that he probably would never have dreamt of. He was a wonderful surprise for me. I didn't see him playing in a role he did when I came here.

He is our dog in central midfield, who fights with everyone and tackles. He's got a really good engine in him and he can run up and down for ninety minutes. None of our other players could have scored the goal he did against FC Goa," said John Gregory.
Other than John Gregory, two other men who worked tirelessly for the club from the very beginning of the season was Assistant coach Sabir Pasha and Chief Technical Officer Amoy Ghoshal.
The Britisher acknowledged their contribution and said, "Amoy (Ghoshal), I always use him as an aid and help in decision-making. He gives me info that I do not know.Without his input, I would have struggled in the season with a lot of things.
"Sabir Pasha is very much involved in our coaching staff. He is very important for me. Amoy is my man off the field but Sabir is my man on the field."