Indian Super League
ISL 2017-18: Ranko Popovic vows to fight for 'good' Indian football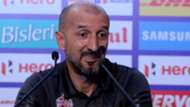 A 2-0 win over Mumbai City FC away from home consolidated FC Pune City's second spot in the 2017-18 Indian Super League (ISL) table on Sunday.

Understandably, coach Ranko Popovic was ecstatic after the game. "It is a great relief to win, especially a local derby. We won it again and it was fantastic. The highlight of the match were the fans," he said after completing the double over The Islanders this season.

"The match was difficult, we tried to refresh by changing positions. We put (Emiliano) Alfaro, our best striker, on the bench yet we scored which says that we are a team."

"The boys deserve the win. We had good opponents today but we did great too," he said.

However, yellow cards to Marko Stankovic and Sarthak Golui soured the mood for the 50-year-old. He expressed, "We got two yellow cards today you know why? Because we played fair. What we are doing is respect (sic)."

"I know ten players who will make tackles and challenges from behind or try to stimulate you. This is what you know too. This is something officials must know too. We have to protect players," he opined while addressing the media.

He continued, "I know what's the truth and I don't have to be scared to tell what's true because that's what my parents educated me. I will fight for Indian football because it's good."

"We have to protect the players first. Marcelinho received so many harsh challenges from behind in the last games. If someone is going to kill you, you have to send him out not send me out! Why can't we be talking about this situation? Don't leave players to come in such situations, protect them before itself  (sic)," he said, expressing disappointment on how bookings are being handled this season by the officials.