Friendlies
Is it time for McDonald Mariga to start a game for Kenya?
McDonald Mariga made a return to the national team for the first time since 2014, when he turned out for the country against Lesotho in the Afcon qualifiers.
The former Inter Milan star came in as a second half substitute against Comoros, and played his part in creating Clifton Miheso's equalizer, as Kenya battled to a two all draw against a side ranked 132nd in the world.
Mariga, who turns out for Spain's second division side Real Oviedo, has been in a good form for the team, and is currently ranked among the key players.
But again the question arises, is it ideal for interim coach Stanley Okumbi to give him a starting berth against Central African Republic on Tuesday?
---
Victor Wanyama out!
---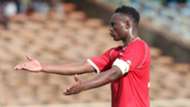 Captain Victor Wanyama has already fled back to England after suffering a discomfort on his knee. "Wanyama will not be involved in the match. He jetted back to England after the match against Comoros. His club Spurs requested that he play one match because of his troublesome knee.
"It was just a precaution considering the fact that the EPL is in its crucial stage, and the player's services are needed.
"But I believe we have players, who can do the job, and enable us to claim victory," Football Kenya Federation Communication Officer Barry Otieno told Goal on Tuesday.
With the 27 year-old out, someone of experience and equal effect will be required. Mariga is currently on his best form after a series of injuries. He was effective when he came in as a second half substitute and that could have been enough to give him a starting berth against CAR.
---
Team balance
---
On most occasions, players have failed to make good decisions on when to sit back, when to possess or attack. It is something Mariga has excelled on owing to his vast experience.
Against Comoros, Kenya gave away possession cheaply especially after getting the first goal. With the Oviedo man in, his influence might be what is needed to make things right.  
---
Confidence
---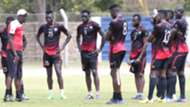 It is clear that some players in the Kenyan midfield have lost confidence when on and off the ball. They make wanting decisions that have at times cost the team. Mariga is there to provide a solution having played against the best with varied pressure. This man always gives option, and rarely makes mistake when on the ball.
---
Motivation purposes and leadership
---
Most of the players in the national team did not play with Mariga in the team. Giving them that opportunity will provide them renewed motivation and as a result they will give their best. The most important thing is that they will work even harder on the pitch and the team will benefit.
Mariga is a natural leader on the pitch. He knows how to calm fellow players and make them play even when things are not going their way. He is kind of a leader, who Kenya has missed in the past three years, and his presence will be a plus to the national team.