A-League
Inside Usain Bolt's tough first training session with Central Coast Mariners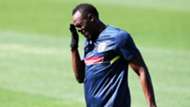 The world's fastest man has had his first full training session with A-League side Central Coast Mariners and Usain Bolt has shown he knows how to pull a crowd, but still needs some work on the football pitch.
For a side lucky to get a single camera to most training sessions, the Mariners were subject to a media frenzy on Tuesday with 50 odd cameras and many more members of the media descending upon Central Coast Stadium to see the eight-time Olympic gold medalist in the flesh.
Having arrived in Australia on Saturday to begin an indefinite training period with Mike Mulvey's side, Bolt could be excused for suffering from some jet lag as he put in a laboured 45-minute showing.
Emerging from the tunnel with a smile and a thumbs up, the Jamaican showed he was ready to get the ball rolling on what promises to be a long but equally mesmerising quest to become a professional footballer.
After some gentle passing with three other Mariners that included a cheeky chip on the club's cult figure Matt Simon, Bolt joined the squad for some light sprints and notably trailed the pack as he started to tire surprisingly quickly.
— Joshua Thomas (@Joshua_Thomas97) August 21, 2018
Hands on hips and sweat dripping from his superstar exterior, the sprint king revealed he's still got plenty of work to do to get up to speed over the next few months.
Collecting his breath, Bolt then took part in a simple pass and run drill. Though relying heavily on his left-foot, the 32-year-old did manage a few neat touches which should give fans some hope he could do enough to earn a contract. 
Bolt would then be put through a bit of cardio work with former Premier League defender Kalifa Cisse, who he's developed a close relationship with, as the rest of the team took part in a half-field match. 
With the squad already two months deep into a long pre-season, Bolt simply didn't look ready to cut it with them just yet and would likely have found himself torn apart had he taken part.
Whether or not he'll have what it takes over the coming months remains to be seen but rest assured the club will give him every chance to do so. 
If the media frenzy was anything to go by, the Mariners would be mad not to capitalise on the sheer star power of Bolt and in the process allow him to make yet another dream a reality.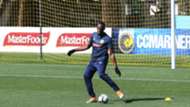 Dressed all in black, Bolt addressed a packed press conference after his training run and admitted he's still got plenty of work in front of him to earn a contract.
"The first day of training is always the toughest one," Bolt said.
"I know it will take time and I'm ready to work. I'm here to push myself. I'm here with a blank slate. 
"I'm not setting myself any targets. I don't know what to expect. My main aim is to get fit."
Though admitting he's got a few weaknesses, the ever-confident figure was also able to pin point his potential strengths on the pitch. 
"I'm very cool under pressure," he said 
"My ability to understand very quickly and learn. I see the game very well. 
"There's things I need to learn and that's why I'm here."
Bolt also revealed he had offers from Asia, France and Spain but opted for Australia and the Central Coast - a place he could well be calling home the next few months as he looks to complete the unlikely switch from sprinter to footballer.