I-League
Indian Football: Foreign player quota for I-League teams raised to six
The number of overseas players an I-League club can sign for the upcoming season has been raised to six, Goal can confirm. 
Previously, a team could only sign four foreigners in the squad with one of them required to be hailing from an affiliated country of the Asian Football Confederation (AFC). 
Constantine names 34-man squad
With sweeping changes being implemented in domestic football scenario, including an expansion of the Indian Super League (ISL) which has also been given AFC recognition, several I-League clubs have been pushing for an increase in the number of foreigners they are allowed to sign. 
But some of the clubs were not in favour of the foreign player quota being raised and had made their objections clear several times.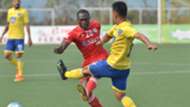 It is to be noted that an ISL team can secure the services of a maximum eight overseas players. 
Subsequently, the Executive Committee of the All India Football Federation (AIFF) has ruled that the I-League clubs will be allowed to sign six foreign players, with two of them hailing from an Asian country. 
However, unlike the previous seasons where the entire foreign contingent could start a game, only five foreign players can be named in the starting eleven from next season. Interestingly, ISL regulations also allow for only five foreigners in the playing XI. 
It remains to be seen how this affects the balance of the teams and the opportunities for Indian players in the league.