I-League
Indian football - Bengaluru FC's I-League chaos highlighted by foreign striker absence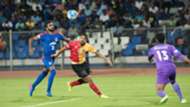 There was a collective hush, which was soon to be punctured by a gush of optimism. There was belief and buoyancy in the air, the erudite structures of a stirring comeback, which the assembled audience hoped propelled their protagonists forward.
However, the script ran counter to the orthodox vector. Two hammering blows later, the contest was all but dead - cause was dead in the water. No, you weren't reading the gist of an intricately written thriller.    
'I was really upset' – Fabregas struggled with lack of playing time
This was how the I-League round 11 fixture at the Sree Kanteerava Stadium panned out. East Bengal return to Kolkata feted as the conquerors of the Southern metropolis of Bengaluru, having consigned the defending champions Bengaluru FC to a harrowing 1-3 defeat in front of their home faithful.
More than just ensuring the crown slipped ungainly off Albert Roca's team, The Red and Gold plucked it off their brow, with the swagger of kings and rightful heirs to the throne of India's top tier championship.  
Trevor Morgan's tactical nous deserves to be rightfully praised, despite the absence of two critical elements in his team – Lalrindika Ralte and Willis Plaza. The maneuvering of Robin Singh into the starting eleven, with the accompaniment of new foreign signing Chris Payne and Wedsom Anselme  ensured rigidity and fluidity were available in plenty in the team. Defence was marshalled by a rejuvenated Gurwinder Singh and the 'tank' Ivan Bukenya, two professionals who refused to let Sunil Chhetri or his coterie have a prolonged vision of T.P. Rehenesh's goal.  
However, one must look back at the proceedings on the night closely and decipher the cause of Bengaluru FC's so-called dismantling. Was East Bengal's conquest in Bengaluru actually aided by a callow recruitment overshoot by the Jindal Steel Works (JSW) owned team?
The spotlight is of course on the two-time I-League champions' noticeable vacuum in their striking department and that of a foreign striker. There is a general consensus that in the run up to their seven game domestic winless streak, The Blues were actually so free-flowing that they decided to rest on just Roby Norales to aid Chekiyot Vineeth, Sunil Chhetri and Udanta Singh in that area of the pitch.
The Honduran of course was shepherded out to Ozone FC after failing to make the criteria for Roca's measures and Benglauru FC have singled out a name to bear the number nine shirt from foreign shores, but the feeling is that it's all a little too late. Of the three appearances their Haitian striker made, only once did he actually start a game. The other two were substitute appearances. He won a penalty and scored a goal for his team in this spell. 
It's been seven games without a striker for Bengaluru FC and they seemed to have only slowly ramped up their ante. 
The presence of a foreign striker introduces virility to a team's attack. One need only take a look at this weekend's victors East Bengal, Churchill Brothers or even the resurgence of Aser Dipanda as a fluent forward for Shillong Lajong combined with the dexterity of Juan Quero at DSK Shivajians aiding Kim Seong-Yong. 
'He had the aura and confidence' – Neville compares Ibrahimovic to Cantona
The bottom line is teams' whose forward line lack the presence of a foreign striker capable of lifting their attack are at a disadvantage, regardless of the capability of Indian strikers. Anselme has scored six in 11 games for the Calcutta Football League (CFL) champions, while Cameroonian Dipanda has eight in 10 games. Kroma has begun to fire on all cylinders for The Red Machines in Goa. Plaza too has netted six times in 10 games.
The above mentioned sides have the advantage of pushing out a foreign striker because not only do they influence their teams' ability, but also tend to influence the opposition's decision making.  The psychological impact cannot be ignored, considering several teams employ a foreign defender to counter a foreign attacker. This is because, the foreign attackers tend be more of a handful in tricky situations, pulling defenders away so that their colleagues can exploit spaces - something the Indian attackers are still learning how to do.  
Now, looking back to Bengaluru's rotten streak, the team has scored just six goals in seven games compared to eight goals in their first three games. CK Vineeth, so much a sure-fire starter earlier in the campaign, has registered just one goal in the last month. India's record goal scorer and skipper of the 2014 Federation cup champions has just scored four goals to his name all season – clearly not the level Bengaluru have come to expect. 
The absence of John Johnson is no doubt a set-back. However, a foreign striker's presence MAY well have negated it to a large extent.  
Manchester United crowned EFL Champions through Ibrahimovic Double 
Chart back to Wedson Anselme's solo goal versus Bengaluru and you find a striker in his pomp - jerking the covering Juan Juanan, maligning his positioning with a few step-overs before unleashing a cushioned ball past Sandesh Jhingan and Arindam Bhattacharya into the far corner. The 30-year-old was a major figure behind most of East Bengal's forays into the opposition half and ideally he should have had more than just a goal to his name besides assists.
The Indian players' ability tends to pick up as well, with respect to positioning and off the ball runs. The mentality is affected as well. These foreign marquees, particularly at the apex of the pitch, tend to influence games with their persona while inflicting damage to the opposition. The range at which these foreign strikers operate, push the entire team forward – Mumbai is a prime example of the malaise which the absence of an overseas striker can induce.  
Some will certainly point to examples such as Kamo Stephen Bayi and Alfred Jaryan from Aizawl FC with their low output rate. However, the Reds aren't pushing up the necks of Mohun Bagan and East Bengal for no reason. Bayi has participated in 10 I-eague games this season, with Jamil's men winning seven of them. Alongside Liberian Jaryan who has held up the midfield brilliantly, the team have been aided by smart movement and persistence with tactics that have been honed with the knowledge of how to use their foreign strikers well.  
Ultimately, it's down to Roca and the team's management to elevate the sepia that has clouded the much loved southern side for what seems like eternity. Get that recruitment right and Bengaluru have a great chance to overcome most obstacles that have blighted their path. However, a caveat on a signing so late in the capaign still remains - one small misstep and you watch the dominos crumble.