I-League 2nd Division
Indian football: AU Rajasthan Football Club launched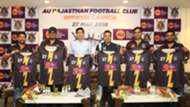 AU Rajasthan Football Club has been launched by former India skipper Renedy Singh at a plush hotel in Jaipur, Rajasthan, on Sunday.
Various officials of AU Small Finance Bank, the club's principle sponsor, as well as club officials and other dignitaries were also present at the event.
The club's launch statement stated that, "The club aims to provide professional training for the game in Rajasthan along with putting Rajasthan on the map of Indian football. The club has recognition and support from Rajasthan Football Association & All India Football Federation."
It's a venture undertaken by Spordy Ventures Pvt. Ltd, with support of AU Bank, in the first two years the club has targeted to train youngsters from the age of six to participate in national leagues, the Rajasthan State League and eventually the I-League second division.
As Goal had reported ahead of the I-League 2017-18 season, it has to be noted that there were prior attempts of Rajasthan-based groups submitting their bid for a direct spot in the I-League, other than the confirmed bids of Kerala-based Gokulam Kerala FC and Ozone FC Bengaluru.
Speaking on the occasion of the club launch, Renedy Singh expressed the need for professional academies that can train aspiring athletes across the nation and help them achieve their dreams.
"Football is the number one sport on international level and it is equally popular in North East," he said. "Children in those states start training in football at an early age and gain a competitive edge. Now, with increased exposure to international sporting arena, children from across the nation are showing keen interest in this sport.
"However, there is a dearth of professional academies to train them. This initiative will be a significant step towards providing professional training to these children and creating a conducing environment for this sport in India. I will always extend my whole-hearted support in all their endeavours."
Rajasthan Football Association secretary, Dilip Singh Shekhawat commented, "Many of you might not be aware that Rajasthan has a glorious past when it comes to football. Now, we want to revive that. With corporates like AU Bank coming forward to support this cause, I am sure Rajasthan's future in football is very bright."
Throwing light on some of the club's plans, AU Rajasthan CEO Sohil Bhansali revealed, "With this club, we aim to raise the standard of football in Rajasthan as we gear up to train participants for I-League second division.
"For providing European standard coaching facilities we have engaged in technical partnership with the likes of Perfect Football Club, Spain that are well respected for their professional approach. The club shall provide top level platforms to budding footballers through participation in leagues across the state and nation. We will also focus on conducting various coaching licenses with the support of AIFF and RFA."
The club's football academy and training facility will be based at Jaisinghpura, Jaipur.