I-League
Indian Football: AIFF to look into DSK Shivajians' non-payment of dues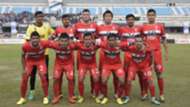 The All India Football Federation (AIFF) is expected to take up the matter of alleged non-payment of dues with DSK Shivajians on the sidelines of the I-League clubs' meeting on Thursday in Delhi.
Several players have written to the AIFF wherein they have complained of not having received their wages from DSK Shivajians.
Goal had written about the issue back in March however, the Pune-based club have made assurances to the players that they would make the necessary payments in due course.
"Yes, we have got a complaint from the players. I will speak to Shirish Kulkarni (owner of DSK Shivajians) after the I-League meeting," said Kushal Das, the AIFF General Secretary.
Suarez wants Arsenal's Bellerin at Barcelona
As widely reported in the Pune press, the D S Kulkarni conglomerate is allegedly believed to be in throes of financial instability. Recently, a video that did the rounds of social media revealed the Kulkarni himself berating and scolding staff for passing cheques to debtors which weren't going to be accepted.
"We are going through bad times — things have been tough since my accident. Some people have been knocking at our doors for their money. The fact is if I owe Rs 100 to people, my assets are far over Rs 1,000 (crores). My inventory alone is worth Rs 3,800 Crores, though I don't have a single readymade unit (in real estate)," lamented the chief of the enterprise, to The Pune Mirror.   
DSK Shivajians recently received the award for Best Home-match organizer of the I-League 2016-17 season jointly with Bengaluru FC earlier this month at the AIFF awards.