Ikhsan Fandi
Ikhsan Fandi's top 3 makan places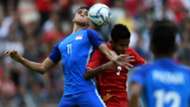 With 67.5K followers on Instagram, Ikhsan Fandi encapsulates the term modern footballer perfectly. He is not just a superstar in football but outside of it as well, as he is a talent that is easily marketable to the masses.
People love to know what he is up to, from the brands he purchases to the places he patronise. Bearing that in mind, Goal Singapore decided to ask the Young Lions forward which are some of his favourite makan places, especially when it is a known fact that eating is the favourite pastime of Singaporeans.
Spize at Bedok
Situated in the East of Singapore, Spize at Bedok has become the go to supper place for most Singaporeans. This is also one of the places where Ikhsan would patronise after a match to satisfy his cravings.  Spize serves Asian and Mediterranean food and with its cosy atmosphere, it's no wonder Ikhsan is a fan.
Jalan Kayu
Like Spize, Jalan Kayu is another of Ikhsan's favourite makan spot. With the wide array of restaurants on hand, one is able to find a spread of different cuisines at Jalan Kayu. Whether you are looking for Chinese, Malay, Western or Indian food, Jalan Kayu has it all and ultimately it has become Ikhsan's and many Singaporeans' favourite place to chill over good food and just lepak.
Kampong Glam Café
Situated in Bussorah Street, Kampong Glam Café serves traditional Malay food like Mee Rebus, Tahu Goreng, Soto Ayam and Gado-Gado. Moreover the eatery also serves Western food like fish and chips and calamari rings. Just like many other Singaporeans who would patronise this eatery when in Kampong Glam, Ikhsan is no different.  After all, this is a place where one can enjoy good food while experiencing the rich culture that Arab Street has to offer.