African All Stars
Iheanacho has to prove himself elsewhere, says Agali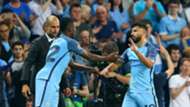 Ahead of the 2017/18 season, former Nigeria international, Victor Agali believes Kelechi Iheanacho has to leave Manchester City so as to remain relevant.
The 20-year-old, considered as a backup to main striker Sergio Aguero, slipped further in the pecking order at the Etihad Stadium following the arrival of Brazilian youngster, Gabriel Jesus in January.
But still he managed to finish the season with four goals in 20 English Premier League appearances - mostly coming off the bench - in a turbulent season which saw Pep Guardiola record his worst spell as a coach.
His situation at City has led to couple of English outfits jostling for his signature as Leicester City reportedly lead the race to prize him away from the Citizens.
"His situation at Manchester City is expected because I was once a player in those shoes and I took a decision; instead of going straight to a big club I went down to lower one get more playing time get developed quickly and then hit it big," Agali told Goal.
"For him starting on a big level already and a club like Manchester City that has all the money to throw around, they can always replace him with an Aguero and the likes of other top strikers. It'd definitely affect him. I'm not saying he is a bad player, but he needs to prove himself and he has to prove himself somewhere.
"If Manchester City are is doing well having success, fine, he's going to play. But where they are struggling the coach has to do something and the management would say 'come on we have money to spend. Why not go for the big strikers," he concluded.