World Cup
Iceland's Hallgrimsson predicts tight Group D race ahead of Nigeria clash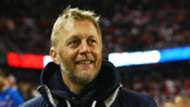 Iceland coach Heimir Hallgrimsson believes the race to the next stage is 'going to be down to some margins' in Group D following their 1-1 draw against Argentina.
The Icelandic team posted a brilliant World Cup debut, forcing the two-time champions to a draw at the Spartak Stadium on Saturday.
Having claimed a point off the Argentines, the debutants are two-point adrift of leaders Croatia, who defeated bottom-placed Nigeria 2-0 in Kaliningrad.
And the tactician is looking forward to Friday's showdown with the Super Eagles, but he is wary of threats of Gernot Rohr's men, who will be desperate to fight back from their opening loss.
"We've start to focus on Nigeria," Hallgrimsson told media.
"This is a must-win game for Nigeria, and that makes it a little bit psychologically different, they have to win.
"This group is going to be decided in the last minutes, in the last game.
"It's going to be down to some margins, a set piece, extra time goal. This is how this group is going to be played."