Leeds United
'I will stop making mistakes when I die' - Leeds United defender Berardi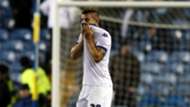 Leeds United defender Gaetano Berardi believes he will find it difficult to change his playing style after being sent off for a third time this season.
Berardi was dismissed against Sunderland for a two-footed lunge on Callum McManaman in early April and picked up a five-match suspension which means he will not play again this campaign.
Following two previous red cards against Cardiff and Bristol City, the 29-year-old has now missed 10 games through suspension this season, but while he has apologised for his latest sending-off, he acknowledged it is part of his game.
"I reflected a lot after the game, I recognised that I did a big mistake, again. It's not good enough for a senior professional player," Berardi told LUTV.
"If I'm here now it's because I want to say something. I want to say that I'm sorry about it and apologise for my mistake. If I'm here it's because I respect my team-mates, I respect the staff, the club and the fans. I have to come here to say something."
Berardi, who has been sent off six times since joining Leeds from Sampdoria in 2014, insisted the passion and fight in games is what defines him as a player:
The Italian added: "I want to win the ball, I want to win the games, I want to give everything and give my best. If I want to give 100 per cent then this can happen.
"It's not an excuse but it's part of the game. It's a big mistake. I will stop making mistakes when I die I think.
"There's a big fire in me and without it I can't play football. If I remove this fire I just go home and find a job. That's all I can say.
"When I go on the pitch I just think about the ball and winning the games. It's my fire, my way to play football. I know that maybe it's not good but what can I say?"