WTF
'I make your wife smile!' - Evra's hilariously awesome tribute to Rooney after Man Utd exit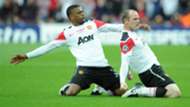 Patrice Evra has shared a wonderfully weird tribute to Wayne Rooney after the striker completed a return to Everton from Manchester United.
Man Utd stars rub shoulders with The Rock

The former England captain moved back to Goodison Park last week, with Romelu Lukaku heading the other way.

Evra spent eight years alongside Rooney at Old Trafford, winning five Premier League trophies and one Champions League under Sir Alex Ferguson.

And Evra has shared a typically comedic tribute to his old team-mate - claiming he is better than Rooney because he makes his wife, Coleen, smile - finishing it all off with his new catchphrase, "I love this game".

"Dear Wazza I know you are not impressed with my breathe in that picture but this isn't the subject of my message," he wrote on Instagram.
"I would just like to say thank you for all the years we spent together, we won many trophies together.
"You are a legend for Manchester United and I hope all the fans will always remember you for that.
"As a person I am better than you because even your wife Coleen said I make her smile a lot with my crazy videos so I'm still waiting for the thanks.
"Between me and you, I know your dad will be the most happy Everton fan, so well done to make people really happy.
"I love this game ahahahah."