Hirving Lozano
Lozano reveals boyhood Man Utd admiration amid transfer links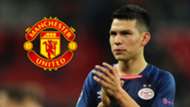 PSV Eindhoven winger Hirving Lozano has spoken of his delight at being talked up by the English press and says Manchester United were a club he liked a lot growing up.
The 23-year-old burst on the global stage during the World Cup, scoring the winning goal for Mexico in a shock victory over defending champions Germany.
Lozano's display came amid rumours linking him with a move to England, with Manchester United and Tottenham among the sides noted with an interest.
Spurs have had two opportunities to see Lozano up close in the Champions League, with the Mexican netting in their first meeting; a 2-2 draw at the Philips Stadion .
Though he did not register in the 2-1 defeat at Wembley, Lozano remains on the radar of a handful of clubs - interest which he appears to welcome having spoken highly of the praise he's received from the press in England.
"It´s nice English papers talk nicely about me," he told talkSPORT's Universe Premier.
"It's special. Personally I say thanks for the nice words. 
"I always try to improve and give something extra. I will keep on improving.
"I learn a lot from every manager. Every manager passes on something new.
"Mark van Bommel had a great career and you must learn from every manager."
Lozano admitted in September it would be a "dream" if he joined La Liga champions Barcelona, though his international boss Juan Carlos Osorio wants to see him move to the Premier League.
But if his favourite team as a youngster are anything to go by, it could be a straight fight between United and the Catalan giants.
"I liked Manchester United a lot," he said when asked about his boyhood clubs. "In Spain my favourite team is Barcelona."