I-League
I-League 2018/19: Real Kashmir likely to play all home matches from Srinagar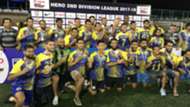 Clouds of uncertainty had gathered in the minds of Kashmiri fans when they learnt that Real Kashmir FC might have to change their base from Srinagar in the upcoming I-League due to lack of infrastructure. 
But recent developments indicate that the Leopards of Kashmir might get the opportunity to play in front of their home fans. 
Large-scale renovations have been going at the TRC Turf Ground in Srinagar to equip it with the all the state-of-the-art facilities to host a top-division league game. 
"Major renovations are going on at the stadium. The dressing rooms are being re-constructed to turn it larger and more comfortable. Special attention is also being paid to the gallery as well so that the fans have a nice time," said a club source to Goal. 
The administration remains confident that the refurbishment of the stadium will be completed before the league starts in the last week of October. 
Weather conditions generally turn hostile during winter in Srinagar but the management remains hopeful that they will be able to host games in the months of December and January. 
"It will be snowing in Srinagar in the winter. But we will be taking necessary precautions to protect the surface so that games can be hosted during that time as well," added the source. 
Real Kashmir FC won the 2nd Division I-League after beating Hindustan FC 3-2 in the final and became the first club from Jammu & Kashmir to participate in the top-tier of Indian football. They are starting their pre-seson training from September 1 in Srinagar and are likely to travel to Mumbai and then Scotland at the later stages of their preparations.