Punjab
I-League 2018-19: Reigning champions have faltered in their title defence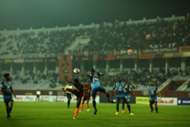 The recent editions of I-League has seen stiff competition and unpredictable results. While the minnows are regularly punching above their weight throughout the season, the favourites have run out of gas at the business end of the tournament. 
In 2017, Mohun Bagan threw away the championship from their grasp as they conceded a late goal against Aizawl and gifted three points to the eventual champions. In the following season, East Bengal trod the same path when they lost to Gokulam Kerala and drew against Shillong Lajong on the road, to hand Minerva a boost in their title aspirations. 
To taste success might be difficult but maintaining the same standards takes a lot of planning and is an even greater test of character. And Aizawl FC and Minerva Punjab are the two glaring examples of clubs who have struggled to replicate their success so far.
Aizawl finished fifth last season whereas Minerva are currently placed seventh in the league table with four points from as many matches.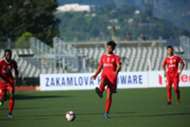 If we strictly restrict ourselves to the footballing discourse then we can find quite a few reasons to harp on. 
Whenever a small budget team clinches the championship, it becomes a victim of the clubs who are capable of flexing their financial muscle to lure their best performers. Khalid Jamil, who steered Aizawl to I-League glory, was snapped up by East Bengal and was offered a hefty pay cheque. Jamil brought with him the best players of Aizawl which included Mahmoud Al Amnah, Laldanmawia Ralte, Brandon Vanlalremdika and Lalramchullova. Although Jamil has since been shown the door, these players continue to make regular appearances for the Red and Golds. 
Apart from Alfred Jaryan, not a single player has continued at Aizawl from among those who featured in the starting line-up against Mohun Bagan on April 22, 2017. Defensive linchpin Eze Kingsley joined Mohun Bagan whereas the likes of Zotea Ralte (who scored the winner against Bagan), Ashutosh Mehta, Albino Gomes and Jayesh Rane have jumped ship for fatter pay cheques. In the 2017-18 season, they ended up having a new-look squad and with a foreign coach in Paulo Meneses only to watch their title challenge go down the drain. 
Continuity is one of the key elements to remain successful in football and both the clubs could not quite build on that.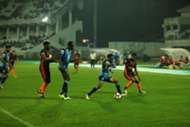 If we turn our attention to Minerva Punjab, they have also failed to retain their core group of players and their head coach. While star performer Chencho Gyeltshen have been roped in by Bengaluru FC, Rakshit Dagar, Kamalpreet Singh, Kassim Aidara and Gagandeep Bali have joined East Bengal. Whereas defenders like Abhishek Ambekar and Sukhdev Singh have signed for Mohun Bagan. It must be noted that most of the Indian players who are currently in the starting XI were part of the squad in the previous campaign as well but struggled to make it into the first team. 
The overseas department has also failed to spark life into Minerva's drab showing. Donatus Edafe and Bala Dahir are yet to score a goal and the former had a forgetful day in office against Gokulam Kerala as he wasted a couple of chances which should have been buried into the net. 
The absence of Yu Kuboki has hurt the Warriors as they are missing a poacher in the attacking third. The Japanese scored the bulk of their goals in pre-season and in his absence, the other strikers have failed to step up. 
Both clubs, owing to financial constraints, were put in a situation where it was hard for them to replace the quality of players who left the squad. The pressure of being the defending champions would also have taken their toll on the teams. 
But the league has just started to take shape and there's a long way to go. The tables can still turn for the Chandigarh-based side once they have the full squad at their disposal. If the Indian players are able to settle down and take their game a notch higher then things might get brighter for Minerva Punjab.