I-League
I-League 2017-18: Effective scouting of foreigners help Minerva land title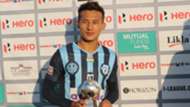 It was not long ago when Ranjit Bajaj, owner of Minerva Punjab, was at daggers with the All India Football Federation (AIFF) over the number of foreign players that can be inducted into a team. Bajaj had strongly opposed the change in rule which permitted an increase to six foreigners in the squad and five in the playing XI, as he felt that teams with deeper pockets would benefit from this rule. 
Six months down the line, Minerva Punjab have become the second side from Punjab, after JCT won in 1996-97, to clinch the league title courtesy of some fantastic displays by the overseas players. Chencho Gyeltshen, has been one of the revelations of this edition of I-league as he kept opposition defenders on their toes with his pace, vision to produce key passes and brilliant dribbling skills.
Chencho has never played on Indian soil before this season and all praise goes to Minerva's scouting team who roped in Chencho as the sixth foreigner just a month before I-League's kick-off. Although the Bhutanese has not donned the shirt of any club of a country within the top 100 FIFA rankings, he has been consistent in his performances throughout his career. His first foray into top-tier football was with Yeedzin FC in the Bhutan National League. After helping Yeedzin clinch championship in his very first season, he went on to lead Druk United and subsequently moved to capital-based club Thimpu City FC where he netted 17 times in 10 appearances. He also holds the record of being the Bhutanese player to play professionally with an international club when he signed for Thai outfit, Surin City.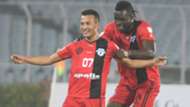 If rumours are to believed, veteran footballer and AIFF's Technical Committee chairman Shyam Thapa had suggested the Kolkata giants to sign Chencho, but both Mohun Bagan and East Bengal refused as they were not confident about a player who is a product of Bhutanese football. Chencho went on to dazzle against East Bengal and Mohun Bagan, scoring once against the former and twice against the latter, thus silencing his critics in Kolkata. 
William Opoku Asiedu, who scored the championship-clinching goal against Churchill Brothers, is another such player who has been mined by Minerva's scouts from Middlesbrough U-23 squad. His marauding runs down the right establishes him as one of the deadliest wingers currently in India and his partnership with Chencho has been one of the key reasons behind Minerva's success. His performance in the Ghanaian Division One for Tafo-based Okyeman Planners FC was ornamented with 11 league goals which earned him a trial at Boro. Like Chencho, he has never plied his trade on Indian soil but after the string of impressive performances his price in the Indian transfer market is set to soar. 
30-year-old Kassim Aidara, who also holds a dual citizenship of Senegal and France was one of the most experienced names in Minerva but this central midfielder has mostly played in the second division leagues in Germany's Jenfelder SV, SC Concordia von 1907 and France's Ligue 2 team Paris FC. Prior to Minerva, his only first division experience has been with teams in the Estonian League where he made over 150 appearances representing various clubs. Aidara was signed as a free agent by Minerva as the Hamburg-born footballer was without a club after his stint with Sillamäe Kalev came to an end.
He has been Minerva's linchpin in the centre of the park as he not only protected the defence with his destructive ball snatching play but also dictated the tempo of the game with his accurate passing from midfield. He remains a silent workhorse as he does not rake up the goals and assists but his contribution to Minerva's midfield is significant to none.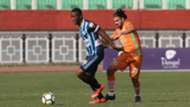 Minerva does not have the financial muscle power and so in their bid to find good players, they put in their sweat and blood to get the best deal out of every penny spent on a foreign player. Clubs like Chennai City, Gokulam Kerala and Churchill Brothers are examples of what happens to a low-budget team when their overseas recruitment is in disarray. Chennai were able to field five foreigners for the first time in February and signings like Illdar Amirov and Baafi Jackson were released without a single minute on the pitch. Except for Frenchman Jean Joachim and Veniamin Shumeiko, all other overseas signings lacked quality and it is no surprise that they finished eighth in the league table. 
Scouting is an exercise is of paramount importance and Minerva have performed it to perfection. Teams like East Bengal and Mohun Bagan have splurged the cash to sign established foreign players as they seem to be reluctant in putting the efforts to scout good players. But, spending money also does not guarantee quality and Ansumana Kromah and Willis Plaza are prime examples of it. Bagan signed Nepalese sensation Bimal Magar as a replacement of Sony Norde but the winger has failed to impress Sankarlal Chakraborty. Whereas, East Bengal's official signing Khalid Aucho is yet to even land in India. 
Recently, Bajaj has let his fears known in media that clubs with bigger pay packets are already hovering around Minerva to snatch Chencho along with the likes of Eric Dano, Aidara and Opoku. The same happened with Aizawl the previous year when star players like Mahmood Al Amna, Eze Kingsley were lured away by fatter paychecks after the North-Eastern outfit won the league. Minerva would once again have to dig down if they are to hold on to their star players or might well be forced to find new stars.