Manchester United
'I don't put pressure on myself' - Lukaku not worried about big-game failure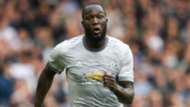 Manchester United striker Romelu Lukaku insists he has no concerns about his scoring record after once more coming up short against top Premier League opposition. 
Lukaku leads the scoring charts in England this season with seven goals so far in 2017-18. 
Long dubbed as a 'flat-track bully', however, the Belgian did nothing to dispel claims he fails to produce against top-drawer sides as he drew a blank against Liverpool. 
The forward affirmed that Everton's negative attitude against the Premier League's best hurt his record, but expects an improvement now he is at United. 
"Sometimes it is difficult when you play against the top teams and you play not to win and don't really create chances," he told reporters of his Everton spell after a 0-0 draw in which the chances did not exactly flow for Jose Mourinho's men.
"Every time I played for Everton we had a different mindset coming into the [Liverpool derby].
"I had a good time. I learned my trade over there. I am really grateful to the club no matter what happened. 
"But now I am in a team where we want to win against the big teams and we want to win every game, so I think the situation will change.
"I don't put pressure on myself. I think the biggest pressure game for me was the Super Cup against Real Madrid.
"That was the game for me where everybody was looking at me and thinking will he do it there. I think it freed me from everything."
Lukaku also took aim at critics he accused of focusing on his missed chances rather than his goals. 
"A lot of strikers in the league miss bigger chances than me and they score two goals — but with me it's always 'Rom did this, Rom did that', I don't know why. It's the standard people set," he said. 
"People will always say this and that, but my record in the Premier League is pretty good and I'm in a situation where the team is performing really well.
"It's all about winning and trying to play as attractive football as we can, win all the time at all costs."