African All Stars
'I didn't even consider ourselves losing,' Aluko laments Fulham's exit from playoffs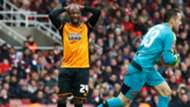 Sone Aluko has expressed his dissatisfaction after Fulham's hopes of gaining promotion to the English Premier League next season got dashed following a 1-0 defeat to Reading.
After playing a 1-1 draw at the Craven Cottage, Yann Kermorgant's 49th minute penalty kick sent Slavia Jokanović's men back to the Championship next season with a 2-1 aggregate.
Aluko who was on parade for the full duration of the game, stated that he did not consider Fulham to lose at the Madejski Stadium and urged his teammates to take the positives from the defeat and bounce back with improvement next season.
Reading will play the winner between Sheffield Wednesday and Huddersfield Town in Wembley Stadium on May 29 for the final promotion spot to join Newcastle United and Brighton and Hove Albion in the English topflight league next season.
"It's a tough one to take, a real tough one, I didn't even consider ourselves losing, I was so confident we would get to the final at least," Aluko told GetwestLondon.
"They way we played, we probably deserved to win, second half especially we dominated the game and had some big chances but that's football and that's life.
"We have to get up and go again and as a team we need to bounce back from this, it's a really tough feeling to take.
"We can only go one way, we have to learn from this and improve, we had patches in the season where if we were slightly better we wouldn't be in the position we are and we'd be first or second.
"Over the course of the season these mistakes were made and you look at the amount of penalties we missed and we dominated most games so it's tough because we're a good team and we know it.
"There's a lot of improvement for us still."