Manchester City
'I could probably turn around Stones in a couple of months' - Campbell offers his services to Man City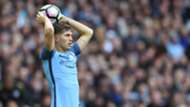 Sol Campbell says he could "turn around John Stones in a couple of months" if Manchester City wanted some assistance in the nurturing of a promising centre-half.
City spent big on the England international last summer, with a reported £47.5 million fee taking him to the Etihad Stadium from Everton.
Walker & Rose on Man City's radar
At the age of just 22, Stones is now the second most expensive defender in world football – with the deal which took David Luiz from Chelsea to Paris Saint-Germain in 2014 the only one to have topped it.
He is, therefore, under pressure to deliver an immediate return on that investment, despite being at a stage of his career where he is still working on his game.
Stones has been vilified for several high profile mistakes to date, with questions continuing to be asked of his tendency to over-play his way out from the back.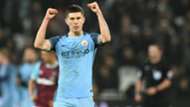 Former Tottenham and Arsenal defender Campbell believes Stones is trying to do "too much", but has offered his services to City in an effort to unlock undoubted potential..
He told the Daily Mail: "Let me get up to Manchester City and help Stones out, turn it around for him.
Guardiola: City deserve respect
"I could probably turn around Stones in a couple of months. He's made mistakes because he's doing too much. It's all about recognising that. If that's the way I get in to start off, that's what I want to do. I'd love to do that."
Stones boasts a manager in Pep Guardiola who is considered to be among the best in the world, and a coach renowned for his ball-playing philosophy.
He also has some experienced heads alongside him in the Blues squad, and Campbell says the youngster needs to soak up any advice he is given from those who have been there and done it at the highest level.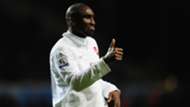 The ex-England centre-half added: "Vincent Kompany would be a big thing for him. Stones can learn from him. That's how you learn, with the manager and with good players around you. 
"If you're clever as a young player you listen and you watch other top players in your position. You ask questions, you see how they deal with scenarios. As a top player, you have to do that as well, play your game but coach others around you.
Pep reveals Aguero contract extension
"Stones needs teaching. He cost £50 million but that's not his fault — he needs someone to go through motions and scenarios and battles with him. Go through easy games and make sure you're still on it.
"Sometimes you think it's an easy game and that's when you're most vulnerable. As a defender you've got to always be alert, you've got to be expecting the unexpected and I don't think he's doing it now."