Opinion
How Caf can end embarrassing withdrawals in Women's World Cup qualifiers?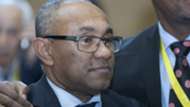 A recent announcement of Equatorial Guinea's withdrawal from the 2018 Fifa U17 Women's World Cup swelled the list of teams to have pulled out to six.
In the beginning, 17 out of 54 African countries entered for the qualifier draws in August 2017, with four bowing out for varying reasons before the preliminary stages.
Libya, Mali, Sierra Leone and Kenya withdrew days to their opening games, while Tunisia and Equatorial Guinea pulled out to hand Djibouti and Morocco respectively the passage to the second round.
In the same vein, 19 teams registered to take part in the U20 qualifiers and before the Second Round, six chickened out.
This shocking but frequent scenario has prompted calls for dramatic actions from various women's stakeholders in finding a lasting solution. Sadly, many countries had withdrawn from the qualifiers without a kick of the ball due burden of finance. 
For Sierra Leone, the administrative battle for the soul of the football body originally headed by Isha Johansen and lack for funds had forced the Leone starlets out of the qualifiers this term, especially after a 3-0 first leg loss to Gambia.
Explaining their withdrawal, the acting President of Sierra Leone's Football Association Brima Mazola Kamara said, "Our withdrawal is due to financial difficulties as the SLFA account is currently frozen. We tried our best to get cash from other avenues to finance the trip to Banjul but we didn't succeed."
Noticeably, Kenya, who competed in their first ever Africa Women's Cup of Nations in Cameroon in 2016, forfeited their U17 and U20 qualifiers due to its players' academic engagement.
The Kenyans failed to honour their opening clash against Ethiopia owing to the absence of most players for examination - a similar case that saw them out of the U20s.
Federation of Kenya Football's CEO Robert Muthomi said: "We were scheduled to play Ethiopia in October 2017. However, following consultations with the schools and Ministry of Education officials, we have decided to withdraw our participation.
"This is to allow players ample time to prepare and sit for their exams, which we also find crucial for their development."
Similar factor almost saw South Africa crash out of the U20 qualifiers with seven of its players taking part in exams. Their absence helped debutants Burundi to a 2-0 first leg victory over the Basetsana. However, it took the return of the key players to ensure they reach the next phase after a 5-0 second leg win.
By implication, the recurring withdrawals and low participation of countries have hindered the emergence of more promising talents in attempts of Football Associations trying to cut cost.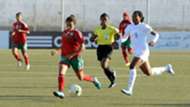 Notwithstanding, countries like Burundi, Tanzania and Morocco are taking bold steps by restructuring their women's leagues, gaining media coverage and making huge investment.
Thinking forward, Caf's leadership can best encourage more entries to halt the spell of withdrawals through radical structural reform and change in format.
Europe have long dumped the home-and-away schedule, embracing the establishment of youth championship.
Nonetheless, the launch of the UEFA Women's Football Development Programme [WFDP] in 2010 has continued to offer opportunity and support for girls and women with strategic projects.
For Caf, it will be of great necessity to unbundle it sponsorship deals and TV rights and inaugurate its own WFDP initiative to end the era of underfunding for the women's game at all levels. With dedicated sponsor(s), TV deals and upgraded prize monies, sleeping nations will be willing to take part, and possibly instigate calls for expansion.
No doubt, a positive upward review, and reform should see the participants of the African Women's Nations Cup in Ghana share more than a paltry $250,000 – in contrast to the $16,400,000 the men's at the next Afcon in Cameroon in 2019.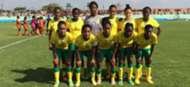 South Africa, for example, are flourishing with good programmes and judicious utilization of sponsorship from Sasol in its women's league and national teams in the last seven years.
Members of Caf women's football committee must take timely steps considering the economic challenges and the paucity of funds faced by African nations to introduce women's age grade competitions as the replacement for the money-sapping home-and-away format.
Doing this, the Africa's football organising body will be fulfilling their broader responsibilities towards the women's game by creating a distinctive version of Africa's U17 and U20 tournaments.
This will definitely take financial load off the countries' FAs and encourage them to support their various national teams in their one-leg qualifiers like the African Women's Cup of Nations.
Efforts to put a stop to the incessant and embarrassing withdrawals, which has continued for over two decades, will be among discussions at the first ever African women's football symposium when stakeholders scheduled to converge in Morocco by March 2018.