WTF
Horrible or great? Twitter reacts to Atletico Madrid's new logo and stadium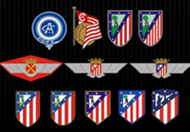 The public got the chance to cast their eye over what the future looks like for Atletico Madrid on Friday as the club unveiled their new logo as well images of their upcoming stadium.
Barcelona to tempt Messi with new deal
Atletico are preparing to move into an exciting new era which will see them move away from the Vicente Calderon and into the Wanda Metropolitano, accompanied by an updated version of the club's crest.
This is how the home of all the Atléticos will look like #HistoryAndFuture pic.twitter.com/MaEi3RFJWK

— Atleti English (@atletienglish) December 9, 2016
But did Atletico's announcement go down well with Twitter users? Goal has taken a look at some of the best reaction posts on the popular social media platform...
El escudo evolucionará para la temporada 2017/18. #HistoriaYFuturo pic.twitter.com/p0LBeEhGl3

— Atlético de Madrid (@Atleti) December 9, 2016
El nuevo logo del Atlético de Madrid. HORRIBLE. pic.twitter.com/wZ6Y0ukhtG

— Fútbol Mundial (@FutMundial__) December 9, 2016
El nuevo escudo del Atlético Wanda Metropolitano pic.twitter.com/LCao8wWKRu

— gazpacho (@gazpachoblog) December 9, 2016
MAKE ATLÉTICO GREAT AGAIN pic.twitter.com/Zkqi7FRPeM

— Esteban Soler (@EstebanSol2303) December 9, 2016
Cambio de escudo y de estadio.#atletico #lapeineta #wandametropolitano #enriquecerezo pic.twitter.com/wX4pIiwn8o

— Adrián Martínez (@ADRiiAN_MTNEZ) December 9, 2016
Atlético going through major changes... New stadium and new club crest.

I think they just realized they bottled 2 champions League finals.

— Barca World (@FCBarcelonaHome) December 9, 2016
Atletico's new stadium looks sex. While their new logo looks aids. On the path of what West Ham did this season?

— ㅤ (@VivaLaDiego) December 9, 2016
Good to see Atletico joining Captain America's side rather than Iron Man in the Marvel/Avengers Universe. https://t.co/nHkGZmEQmF

— Ronan Murphy (@swearimnotpaul) December 9, 2016
What do you make of the logo? Let us know in the comment section below!