Mexico
'Nobody has told me anything' - Lozano in the dark over rumored Man City move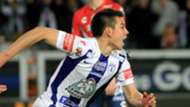 Rising Mexico national team star Hirving Lozano may be headed to the Premier League, but if he is he doesn't know it yet.
After scoring the second goal in El Tri's 3-0 win over Honduras in World Cup qualification, Lozano was asked about his transfer status and said he is in the dark as to his destination.
WATCH: Lozano rounds GK for goal
"The truth is I don't know. Nobody has told me anything. I think they have to talk and decide what's best," Lozano said in the mixed zone after the game.
Pachuca president Jesus Martinez said Wednesday that PSV, Celta de Vigo and Real Sociedad are the three teams still in for the 21-year-old. But Club America coach Miguel Herrera threw that into question during Thursday's game. The former Mexico manager joined the Univision broadcast as a guest analyst and implied Lozano and Pachuca had agreed to a deal with Manchester City that would see the player first join PSV on loan.
Lozano said that while he and his team hadn't spoken with City, he believes the Pachuca directors have been in contact with the European clubs. And though he said he believes his status will be up in the air for "a few weeks," he'd enjoy a move that would see City acquire his rights while having the chance to join fellow Mexico internationals Andres Guardado and Hector Moreno at PSV in the immediate future.
Marquez, Araujo fit for Confederations Cup roster
"Of course. They're great teams and to go to teams like that is really important. I'd like it, but you have to wait," Lozano said.
For now, "El Chucky" has his eyes set on helping Mexico to a victory in Sunday's World Cup qualifier against the United States and then will head to Russia for the Confederations Cup.
"I think I have to stay calm," he said. "Right now I'm with the national team."