1st Division
Highlands Park coach Owen Da Gama reveals how they gained PSL promotion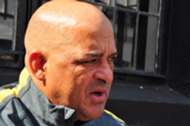 Having gained promotion to the South African top flight division via play-offs in 2016, Highlands Park were demoted back down to the National First Division (NFD) at the end of the 2016/17 campaign.
However, the Lions of the North have once again bounced back by virtue of automatic promotion after a fantastic run in the lower division with four matches to go in their NFD campaign.
Credit must be given to the former Bafana Bafana assistant coach, Owen Da Gama, who stabilised the ship and ensured that his players were clinical and consistent in their push for promotion.
The NFD champions officially ended speculation regarding the NFD title race after beating University of Pretoria 5-1 on Saturday afternoon at Makhulong Stadium in Tembisa, but 'Rubber Doll' refused to take the credit, saying teamwork and professionalism was pivotal for their PSL promotion ambitions.
The former Orlando Pirates and Platinum Stars coach revealed that sometimes he would split his technical team (Allan Freese and Victor Nhlapo) and watch games in different provinces around the country.
"The secret of Highlands Park has been about the collective where everybody involved has put as much effort as possible'" Da Gama told Timeslive.
"All you can credit me for is putting together this good technical team together but the players and everyone else must get credit because we have put in a lot of hard yards behind the scenes to achieve this," he said.
The win on Saturday was the new champions seventh on the trot as it elevated them to the top tier with 59 points at the top summit after 26 matches.
"Hopefully this is a sign of good things to come, it was total focus and being humble' allowing the players to keep their feet on the ground," he added.
"There has been a lot of work behind the scenes and watching lots and lots of matches," revealed the 56-year-old.
"I remember there was a time when Allan Freese went to the Eastern Cape' I went to Venda and coach Victor Nhlapo went to Durban," said the coach.
"All the three of us went to see the opposition. It was a lot of hard work and dedication," said the former SA U23 mentor.
Despite their success in gaining promotion back to the PSL, their campaign is not yet over as they will meet Mthatha Bucks' Cape Town All Stars' Black Leopards and Stellenbosch FC.
The coach has called for professionalism from his troops and insisted they must finish on a high note.
"It is all about being professional' we have to go out there in our last four remaining matches in the league against Mthatha Bucks' Cape Town All Stars' Black Leopards and Stellenbosch and forget about the fact that we will be playing in the PSL next season'" continued the former Moroka Swallows striker.
"We must be focused and be humble so that we finish the season on a high note," he concluded.