Premier League
Hearts of Oak top official gives insight into Nuttall's suspension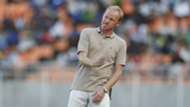 Hearts of Oak board member Frank Nelson Nwokolo has shed light on their decision to indefinitely suspend head coach Frank Nuttall.
The Scotsman, whose reign began in February last year, has been asked to step aside temporarily, according to a club statement on Monday.
The Phobians cited "unsporting and unethical behaviour" as the reason behind the board's decision.
"There was an emergency meeting held yesterday with the Board of Directors - one of the issues discussed was Frank Nuttal's issue," Nelson told Graphic Sports.
"There are policies at the club that we found that the coach infringed on knowingly or unknowingly but the club find it very unprofessional and felt that we should bring the coach to understanding and knowing of the situation.
"But in looking at it, the coach defended some of them and accepted some of them."
Nuttall joined Hearts on a two-year contract, replacing Portuguese coach Sergio Traguil.
"By looking at it, what the board has decided is for everybody to be given a fair hearing, so we set up a committee to look at his conduct and the policies that he offended," Nelson added.
"It's not a whole of issues. It has to do with relationship with players - that's basically what it is all about. 
"It's nothing, I mean he did not kill any human being and there's nothing in that manner. 
"It's just issues with the players that we need straightened out and some of the policies that he claims he does not know."
Assistant coach Henry Lamptey Wellington has been asked to take over the club "until further notice".