Transfers
Have Spurs gifted the Premier League to Chelsea, Man Utd or City with transfer no-show?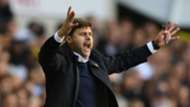 ---
COMMENT
---
In 2015-16 Tottenham emerged as credible Premier League title contenders, only to run out of steam as Leicester completed the most remarkable of triumphs.
Twelve months on and Spurs were back in the mix, but suffered a similar fate as capital rivals Chelsea held their nerve to run away with the crown.
It is too early to suggest that Mauricio Pochettino's side are destined to forever be top-flight bridesmaids, but it may be that their search for "the one" stretches on for some time yet.
Spurs to finish above Arsenal in PL - 4/5
Having finished as runners-up last season, the expectation would have been that a summer of careful tinkering would have the Lilywhites there or thereabouts once again in 2017-18.
There is, however, already a fear that Spurs could have handed the initiative, and potentially the most sought-after of silverware, to their rivals.
While Manchester United, Chelsea and Manchester City have been busy splashing the cash, with some eye-watering sums shelled out as all three have blasted through the £100 million barrier, movement in N17 has been minimal – and that is putting it mildly.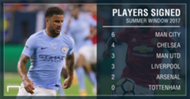 Even Arsenal, with the notoriously frugal Arsene Wenger at the helm, have sanctioned a £46m deal for Alexandre Lacazette, while having the foresight to snap up Sead Kolasinac once he dropped into the free agent pool.
To be blown out of the water by United, City and Chelsea – those with the deepest of Premier League pockets - is one thing, but to be trailing in Arsenal's wake is another matter entirely (especially having worked so hard for so long to break the St Totteringham's Day curse).
There is, of course, still plenty of time in which to get deals done – the window of opportunity does not slam shut until August 31.
Giggs makes PL title prediction
Late scrambles for fresh faces are now an annual event, with deadline day having become a sporting soap opera unlike any other.
Spurs, though, really could do with showing their hand before then if they are to put down any kind of marker for the campaign ahead.
Part of the problem, it would seem, is that Pochettino has no obvious needs within his ranks and no easy way of selling his club to potential new recruits.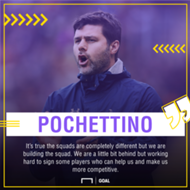 United, City, even Chelsea – as reigning champions – have moved to address weaknesses and plug holes in their respective squads.
Jose Mourinho, Pep Guardiola and Antonio Conte have been in the enviable position of being able to approach the likes of Romelu Lukaku, Kyle Walker and Alvaro Morata safe in the knowledge that they had ambitious projects and starting berths to offer up.
The picture is slightly different for Pochettino.
Mourinho talks up Man Utd title challenge
Convincing Lukaku that he will start at United – a club with no alternative number nine on their books – is no hard sell, but how do you convince a proven frontman that he should move to north London when he knows that Harry Kane will be waiting for him?
Add into that particular mix Hugo Lloris, Jan Vertonghen, Toby Alderweireld, Danny Rose, Victor Wanyama, Eric Dier and Christian Eriksen and the problem facing Spurs becomes painfully clear – their starting XI is among the best in the business, but their squad...
They need reinforcements, they know as much, with their efforts in the Champions League to date highlighting the lack of depth at Pochettino's disposal.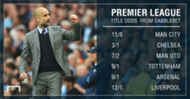 They are, however, stuck between the proverbial rock and a hard place, with a willingness to add countered by a desire to avoid spending for the sake of it.
That has never been a problem for many of those harbouring similar ambitions, with billionaire owners able to throw cash around like confetti and barely bat an eyelid if some of said additions fail to work out – there will always be more funds available on the evergreen money tree.
Spurs are not in that position, and have a stadium redevelopment to factor into the equation, but they are not broke either and know that they need to continue investing, at all levels, if their new-found status among the elite is to be maintained.
'Spending piles pressure on Utd & City'
Pochettino has conceded when pressed on a lack of activity compared to his rivals: "It's true the squads are completely different but we are building the squad. Maybe today they have a little bit of an advantage, they are ahead of us because they have signed and kept the players that they want. We are a little bit behind but working hard to sign some players who can help us and bring some energy, and make us more competitive."
Such statements are a staple of managers around the world - nobody has ever admitted to turning a blind eye to the market and burying their head in the sand.
Actions, though, speak louder than words and for all of the obstacles being placed in Pochettino's path, he needs to find a way of successfully negotiating them if he is to avoid allowing Premier League foes to scamper off into the distance with the best of the talent and the biggest of the trophies.