Premier League
Has Howe blown his chance at being Wenger's successor at Arsenal?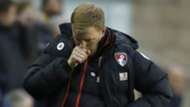 ---
COMMENT
---
After four Premier League fixtures of the 2017-18 campaign, two clubs remain without a point and only have a goal to show between them. But while Crystal Palace have acted promptly in their search for success, Frank de Boer becoming the victim of the Selhurst Park circus show in what is co-owner and chairman Steve Parish's quest for longevity, little is being suggested that Bournemouth manager Eddie Howe's situation on the south coast is under threat.
Bournemouth look stale, yet it is not through Howe's unwillingness to experiment with the shape of his side. The opening two games saw Bournemouth set up in a 4-4-1-1 system, against West Brom and Watford, though the pitiful display against the latter in their first home fixture of the campaign forced Howe's hand somewhat in their next outing.
The Cherries' performance against Manchester City was much improved, operating in a 5-3-2 formation with Jermain Defoe and Josh King leading the attack, and if not for Raheem Sterling's scuffed effort in the final seconds of the game, Bournemouth would have earned a point against a title candidate.
Howe moved to a 3-4-3 against Arsenal, though it was not the structure of his team which was to blame for the defeat, but repeat offenders underperforming against an invigorated Arsenal side.
While the Bournemouth boss has been open to adjusting the shape of his team, stubbornness towards certain personnel in his squad has almost certainly played a part in their difficult start to the season. Lewis Cook, the first Englishman to captain his country to World Cup success since 1966, albeit at Under-20 level, is yet to play a second of Premier League football this season. Andrew Surman and Dan Gosling have so far been preferred to the former Leeds prospect, despite looking anything but inspiring, while Harry Arter was the centrepiece against Arsenal.
Jordon Ibe, too, is still yet to suggest he will ever repay the £15 million forked out by Bournemouth in 2016.
"It was not very good, I've got to be honest," Howe said after the Cherries' 3-0 defeat to the Gunners. "I can't hide it. We were disappointing from start to finish. We've got a lot to work to do. If your levels dip, you will get punished in the Premier League. We were not good. We have no points, we have to dig deep and find some character and show what we are made of. I don't think complacency can be the problem for us. We can't allow that. I take responsibility and I will put it right. I didn't see what I wanted to see."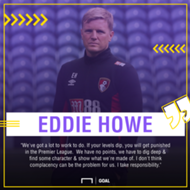 Just 12 months ago, Howe was being listed as a front-runner to replace Arsene Wenger at the Emirates before the Frenchman agreed a fresh, two-year deal at the club. Now, though, he is in the midst of his toughest test as Bournemouth boss since he guided the club into the top flight. 
Friday evening sees Chris Hughton's Brighton & Hove Albion visit the Vitality Stadium fresh from picking up their first ever Premier League victory, a 3-1 home win against West Brom. Claim the three points and Bournemouth can draw a line under their tepid start to the campaign and work towards their goal of a fourth consecutive Premier League season. Lose, however, and the reading looks grim for Howe and his team. Everton, Tottenham and Chelsea are all to come for Bournemouth before the end of October.
Panic has not yet set in amongst supporters — the club finished last season in ninth despite claiming just one victory in their first five outings. The concern in beginning to spread, however, and Friday could prove to be the turning point. 
Howe is used to making decisions to meet the expectations he sets upon himself and his players. The same pressure has rarely been felt from his higher-ups, however — in this case club owner Maxim Demin. Such has been Howe's success at the club during his two spells as manager. It is the next run of results which could cause American investment company Peak6 to express their concern to the Russian, however, with the buck falling at Howe's feet.
The problems have been identified at Bournemouth, but the solutions have not yet been put into place.
Howe, the English media's darling, and his attractive brand of football lends him nicely into the pot of potential suitors at Arsenal when the Frenchman eventually calls time on his coaching career. Right now, though, the 39-year-old's short-term focus is to lead Bournemouth out of the hole they find themselves in and ensure they remain a Premier League club in time for their new stadium to be built.