Ghana
Gyan delights in position on list of all-time top scorers of active international footballers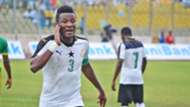 Ghana captain Asamoah Gyan is raving over his position in the list of all-time top scorers of active international footballer.
In 106 appearances for the Black Stars, the 32-year-old has raked in 51 goals, leaving him as the ninth top scorer in the world.
He ties Poland and Bayern Munich striker Robert Lewandowski and Kuwait star Bader Al-Mutuwa in that position.
Portugal legend Cristiano Ronaldo consolidated his spot at the top of the table on Friday with a dramatic double in their 2-1 friendly win over Egypt.
Lionel Messi of Argentina holds the second position with 61 goals, while David Villa (Spain, 59 goals), Clint Dempsey (USA, 57), Sunil Chhetri (India, 56), Neymar (Brazil, 53), Ali Ashfaq (Maldives, 52) and Edin Dzeko (Bosnia and Herzegovina, 52) make up the top seven.
In the list of top scorers, both current and active, Gyan sits 48thon the ladder behind fifth-placed Godfrey Chitalu of Zambia (79 goals), eighth-positioned Kinnah Phiri of Malawi (71),sixteenth-placed Hossam Hassan of Egypt (70), twentieth-positioned Didier Drogba of Cote d'Ivoire (65) and thirty-eighth-placed Samuel Eto'o of Cameroon (54).
Honoured and inspired to do more..to coaches and teammates from 2003 to date,journos and fans,we share this together..we are paying our dues in diverse means to our Country Ghana..such global recognition tells us that we have come a long way and our contributions are duly known pic.twitter.com/hci08Z159I
— ASAMOAH GYAN (@ASAMOAH_GYAN3) March 25, 2018
Gyan, who made his international debut against Somalia in 2003, is one of two Ghana players to have played at three Fifa World Cup tournaments.
Not only is he the historic scorer of Ghana's first goal at the competition, but also Africa's highest scorer at the global showpiece with six goals.
At the Africa Cup of Nations, the striker holds Ghana's record of the most tournament appearances, having played in six editions between 2008 and 2017.
The Kayserispor frontman is, again, Ghana's joint-all-time scorer at the Afcon with eight goals.