KPL
Gor Mahia tie raises a paltry sum as fans make mockery of their loyalty to the club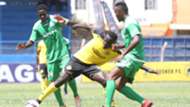 The mid-week Kenyan Premier League match between Gor Mahia and Tusker FC only raised only Sh28, 000.
Gor Mahia played host to Tusker at Kenyatta Stadium but made no profit from the tie following a poor turnout by fans, a sorry state that even forced some club officials to dig into their pockets to cater for other bills.
Gor Mahia Organizing Secretary, Judith Nyangi had to chip in to take care of some of the expenses.
"Yesterday, I was in charge as treasurer was absent. As you can see, total collection was Sh28, 700. I paid the Stadium Sh20, 000, the police Sh6, 000. Timam percentage was Sh4305 but received only Sh2700. I paid ball boys Sh5, 000 from my pocket."
The match was characterised by poor attendance; a mockery of one of the most supported clubs in the local league.
The defending champions moved back to the summit despite being held to 0-0 draw by the former champions.