CAF Champions League
Gor Mahia FC raises meager amount from Caf fixture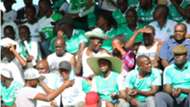 Gor Mahia's Caf Champions League match against Leones Vegetarianos only raised Sh363, 100 in gate collection.
K'Ogalo played hosts to the Equatorial Guinea side at Kenyatta Stadium in Machakos where only 1, 508 fans turned up and paid to cheer the team to a 2-0 victory on Saturday.
According to the breakdown of the figures released by the club and obtained by Goal, only 205 fans paid to sit at the VIP section, fetching the club Sh102, 500 while the terraces recorded the highest amount in revenues with Sh260, 600 being collected from the 1, 303 fans, who turned up.
Out of the total gate collection, the club only banked Sh113, 448 after all the deductions that include Sh249, 632, paid to Wells Fargo, the firm contracted by the club to print and sell match tickets.
The low revenue collection did not go down well with a section of K'Ogalo fans, who are now demanding accountability from the club's executive.
But Gor Mahia treasurer, Sally Bollo has since defended herself and the club from any financial misappropriation. "Please note that we had engaged a professional firm to handle our revenue collection which they did on Saturday.
"Reconciliation was done yesterday Monday, February 12, 2018, with concerned parties i.e. Wells Fargo, Gor Mahia FC and Machakos Stadium Management and everyone was satisfied with the results because the figures were in order.
"In our Executive Meeting, it was passed that we handled financial matters within the Clubs' management and not on social media. So if you were in my position what would you do? Go against the code of conduct and ethics of EC or constitution in order please fans?
"I humbly challenge any of you who may have evidence that I have mismanaged the gate collection to come forward and provide the same.
"My conscience is clear and my inner peace of mind doesn't bother me at all. I will, therefore, continue to handle the mandate that I was elected to do," said a defiant Bollo in a statement obtained by Goal.
Gor Mahia are set to play Zoo FC in their second KPL match away in Kericho on Thursday.